Welcome to the new home page for all things naturally compliant! It's a work in progress, but as I find posts relating to this topic, I'll be updating the page with ingredients and formulas and concepts that you might find interesting.
The concept of being "naturally compliant" means that the ingredient has received some kind of certification from some kind of certifying body that it's natural, biodegradable, green, or something of that nature. This is a much more useful term than "natural" or "derived from nature" as everything on earth is considered natural or from nature. It's much more useful than "plant-based" because there are loads of things that are plant-based that no one would consider "natural".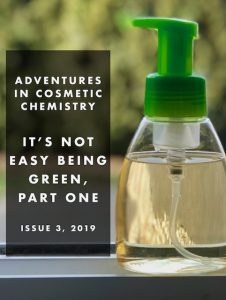 Learn more about making greener, naturally compliant, plant-based products with my e-books, It's not easy being green, part one, and It's not easy being green, part two: Silicone substitutes. 
Various certifications for "naturally compliant" ingredients
Certifying natural & organic products: ECOCERT
Certifying natural & organic products: COSMOS
Certifying natural & organic products: NATRUE
Certifying natural & organic products: ISO 16128
The Roundtable on Sustainable Palm Oil (RSPO) certification, and the designation MB (Mass Balance)
Concepts about formulating with green, biodegradable, and naturally compliant ingredients
Discussion: "Is it natural?" Derivation, processes, and sustainability
Discussion: "Is it natural?" It's not easy being green…
Discussion: "Is it natural?" Clean beauty
Discussion: "Is it natural?" Vegan, "inside out", and non-GMO
Testing the shelf life of your products: Observing a naturally compliant lotion for rancidity