Yep, my little friend is back and he's been very naughty! (You can catch up on the story and get the details up to August here…) Seems Hamsa aka Ryuugan aka Peredhil aka Elrond and so on has been selling other people's work in various groups in the sad, pathetic attempt to make himself appear knowledgeable and important. He's been selling my work for pennies on the dollar in a few different groups, and I think he thought he was getting away with it as I gathered all kinds of information on him and the people and companies who are affiliated with him.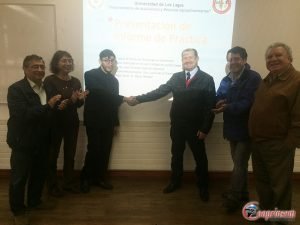 This is who this person with a million aliases really is – he's
Jose Orlando Guzman Ramirez
, and
we found this article from a newspaper in his hometown when he graduated with a diploma that shows his real name.
You see, Jose has harassed and bullied a number of people over the years, because he thinks he's a "genious", when in fact he's just a guy with tons of time on his hands to create fake account after fake account after fake account on Facebook and Instagram and a desperate need to be seen as competent or knowledgeable.
For at least a year now, he's bought all kinds of work from people like me, Soap Queen, Young Living, Perry Romanowski, and more, and he's been selling it to people in a number of groups, most notably the one with the dinosaur picture. There are quite a number of so-called reputable companies in these groups buying and selling, too, so I encourage you to take a look at this PDF of the member list.
And he did it all while using fake names on PayPal accounts, then crying that he didn't receive the materials. He even claimed once that he was scared of me, that I was threatening him.
Oh, cute story, he said he was going to create a website and share all our correspondence so I would look bad, and I encouraged him to do so. I think he truly thinks he comes off looking good here…
Here is a list of all the people and companies in this group where our work is being sold for pennies.
Ryuugan Hamsa (Sale and Barter data inputs Cosmetica Natural Chile Group)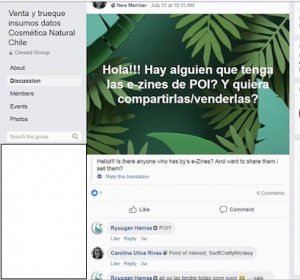 If you see your name here, this is probably the reason why you couldn't access my blog. Please don't insult me by feigning ignorance or pretending you weren't asking him to buy materials from me because I have hundreds of screenshots and I am happy to share them here and on Facebook, if you want. You directly contributed to months of harassment and abuse along with outright thievery by this man. You have no idea how hurtful and abusive he has been to so many people, and you helped this happen.
I encourage you to share this post far and wide so we can put a stop to this man and his group who think somehow that because they're selling these materials, they're smart enough to make them.
I'll be posting pictures shortly showing all the screenshots we have of all kinds of so-called reputable companies selling other people's work.
Oh, and here's another group in which Hamsa is selling people's work – Artesanos Cosmetica Natural Cruelty Free. And he has a link on his new group where he's allowing others to download a paid work. So many people just left their email addresses in a public place. Weird, eh?
This is just the start of all of this. I've written this so those who might be interested could read what's happening, then share it and Stay tuned…