Thanks for joining me for the Zoom meetings – I've having such a blast, I've scheduled four more!
Shortly before each of these, I'll share the link and password along with the formulas, handouts, worksheets, and anything else we'll be using. Please take time to read those before joining the meeting.
The photo above is of all the products we've made in the previous Zoom meetings on cold process lotions, bubble bath, mixers, and oils. Check out the cool things we're planning to make next!
Sunday, May 24 from 11 am to 1 pm (PDT)
Body wash! Join me as we make a foamy, bubbly, lathery body wash, then we'll thicken it using a few different options.. We'll also play with some fragrance/essential oils and observe the effects they have on clarity and viscosity.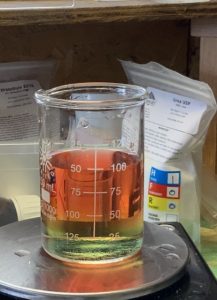 Sunday, May 31 from 11 am to 1 pm (PDT)
pH! Join me as we take a look at pH and our products. We'll calibrate our meters, then use them to test a few different products. I'll show you how to prepare your your product for testing, create pH adjusting fluids, measure the pH of your product, and adjust the pH.
Sunday, June 7th from 11 am to 1 pm (PDT) – re-scheduled for Sunday, June 21st at 11 am PDT due to health issues.
Solubility! Join me as we investigate how our ingredients dissolve in water or oil as we make a cold process facial moisturizer using all kinds of actives, cosmeceuticals, and botanical extracts, like allantoin, Vitamin C, Vitamin E, panthenol, and more! (We'll probably play with facial and eye sheet masks in this one as we did in the mixers one!)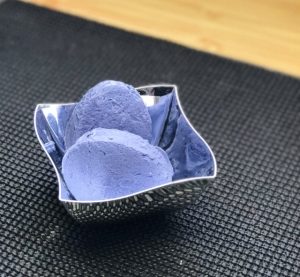 Sunday, June 14th from 11 am to at least 1 pm (PDT)
Shampoo bars! Yep, we're making shampoo bars! We'll make two versions – one cold process, one heated in the double boiler, so bank on this one being at least 2 hours. I'm still working on the details of this one, so if you have suggestions, please let me know.
A few important things to know…
For all of these, you're welcome to join when you want and leave when you want as I do tend to go on and on and one when I get going. I'll be happy to take your questions and listen to your thoughts, and I love the chat that's going on where you're helping each other find ingredients and supplies.
I'm holding these at 11 am PDT to around 1 pm each week as I'm getting really bad headaches from muscle spasms, and by 3 pm, I'm a mess and full of painkillers, which might be funny to watch as I tend to babble more – is that possible? I've heard your requests to hold them at later or earlier times to accommodate those of you who don't live in North America, and I hope this to be possible in a few weeks.*
*I haven't seen the massage therapist or chiropractor since the first week of March, the longest period in my life – so this time frame works for me. I'm seeing the neurologist on June 2nd, and I hope she can Botox the pain away.
As a note, we'll be filming two streams – one as Susan Barclay Nichols, which is the camera to which I'll be talking the most as I can see all of you there, and it feels like I'm making eye contact; and one as Raymond Nichols, which will be the one doing all the close-ups and following me around the workshop.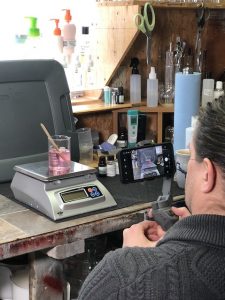 We hope to be recording these meetings, but I don't know if we'll share it afterwards as the goal is connection and interaction, and we don't get that with a recording. I also really don't have time to edit something and make it all prettied up right now.
I messed up the recording on the last one, so we're trying it again!
We will have people muted for the first bit at least because there's always some ongoing noise that happens that makes it hard for people to hear what's going on.
I am taking questions, but please read the handout because I've tried to answer the questions I've heard the most often, like "is this natural?" or "what are you making?"
Definitely share your thoughts and ask questions in the text chat: Raymond is making a note of them as he sees them come in, and I'll do my best to see it without getting too distracted.
If we missed your question, please come back to this post and remind me here. If it's a more complicated question, I might not be able to do anything until I've had some time to think about it and share some resources.
There's a limit of 100 people per session. There's a waiting room so you can arrive early.
I think that's it for now? I'll have the posts for the body wash formulas up here later this week so you can see what we're doing.
Please share your thoughts, comments, questions, and more with us as the only way we can make these better is to hear your feedback! Thanks so much for joining us. We're having so much fun, and hope you are too!