Woo hoo! I have something pretty cool to share for those of you formulating products for sale for a registered small or large business in Canada or the USA* – new sample box for packaging and ingredients called the ChemBox! It's a monthly/bi-monthly box that offers 12 to 15 ingredient samples and 4 to 6 packaging samples a month. If you live in Toronto, it's free; if you live in Western Canada or outside Canada, it's $25 for shipping.
*They've advised that this is open for Canada and the US until August, then they're doing global boxes. So keep reading if this interests you and you're outside of those two countries!
Click here to see the details about ChemBox!
Please note, this is me writing about something awesome I received. This is not an ad, sponsored content, or a promotional thing for ChemBox. Nothing here is an affiliate link. I have no relationship with ChemBox or the Canadian Cosmetic Cluster other than as a customer and someone who follows them on Instagram (@canadiancosmeticcluster). I benefit in no way by sharing this with you – I don't need to take on all those commercial thingies because you support the blog through your monthly subscriptions, leaving the blog free of ads and all that nonsense. I just thought it was pretty cool and thought you, my lovely readers, might be interested in learning more about it.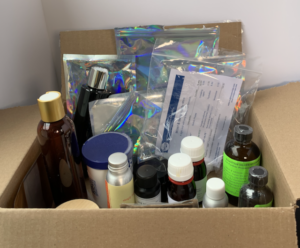 In the June-July box, I received 12 samples of ingredients and five packaging samples, 2 bottles, 2 pumps, jar with bamboo lid, and a gold re-sealable pouch. The ingredients came in gorgeous holographic re-sealable pouches that I will be using to store many other things in the workshop.
When you receive the box, they send you a password for a site that has all the information you might want to know about the ingredients, like data sheets, data bulletins, safety data sheets (SDS), brochures, and marketing materials. It's also where you'll also find formulas if the company has provided them.
These are the ingredients I received in my first box. I've created a chart – that I'll be sharing shortly – with all the information I'll need to formulate with them, including INCI names, purpose, suggested usage, certifications, and other cool information that'll help me use them in the workshop. (If you're ordering the box and want to be surprised, stop reading now…)
Bioactive copper hydrosol
Bioactive Silver hydrosol
Biolie Ruby Red – vegan colour, replacement for carmine
Gin TONIQ® – extract of Brewers' barley, humectant
INdermal DDS Retinol 03 – active for facial products, Retinol
Manicouagan sea minerals Manicouagan glacial aqua (yep, they sent me water in a bag!) – replacement for water in formulas
Manicouagan sea minerals Ultra-ventilated sea clay – clay, use as you would clay
Mirexus PhytoSpherix™- humectant
Provital Senseryn – active, hops extract, for sensitive skin
Provital Wonderage – active, monk fruit extract, for neck related products
Simply ingredients hyaluronic acid – humectant
Vegeluron® Gel ECO (INCI: Tremella Fuciformis (Mushroom) Polysaccharide – pollution protection, humectant, silicone substitute
My opinion? This is a very seriously awesome box! There are some great things I can't wait to try and I loved the packaging they included as samples.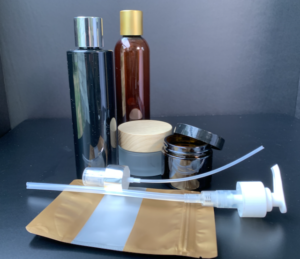 I loved the array of ingredients – a colourant, some humectants, some actives, the clay, the water – and the types of packaging.
Check out these bottles with the two small jars – love love love the bamboo one – with a pump and mister and the re-sealable gold pouch. I promised myself I wouldn't hoard these, that I'll use them!
These are all ingredients I could use today in my products quite easily by making a small change or two, which means the bar for trying them is much lower than it would be if I had to create formulas for from scratch when I've just met the ingredients.
Some of the ingredients come with suggested formulas on the site, others don't, but most are easy to use as they're mostly actives and humectants, which we meet all the time, so they can be used in already existing formulas.
It came so quickly – I paid for shipping on Friday, it arrived here Monday! As a Canadian who is accustomed to waiting weeks for something because our mail can be so slow, this was a joy.
If I had a criticism, I wish there was a quick summary for each ingredient as I wasn't able to find the INCI names and suggested usage rates for the Bioactive copper hydrosol and Bioactive silver hydrosol or the suggested usage rate for the Biolie Ruby red vegan replacement for carmine, and I had to work far too long to find basic information on the Provital Wonderage® that should have been on the card they sent me to scan and use with an app from the App Store.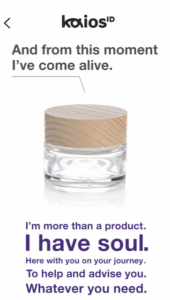 Two of them came with cards to be scanned to use with an app called kaios ID, but honestly, I didn't learn much about either the Provital Wonderage® as it focused primarily on marketing material and expressions of some study they did with an AI and an iceberg, emphasizing feelings about using the ingredient, like "I feel delighted", "I feel satisfied", and "I feel amazing. I'm happy and have a greater quality of life", which was not at all helpful and kind of bewildering.
I learned a bit about Quadpack's Woodacity Solo Turn jar with the wooden top from the kaios ID app, but I can't see how a write-up wouldn't have offered me as much, if not more, information.
As an aside…The "I'm more than a product. I have a soul" thing the kaois ID app did for both the ingredient and packaging feels really strange to me and not at all helpful. I get that they're trying to get me to be more engaged with the ingredient or packaging, that it can "come alive" and create this experience for me, it's their way of marketing, but I didn't feel any benefits from interacting with a sentient, spiritual jar lid.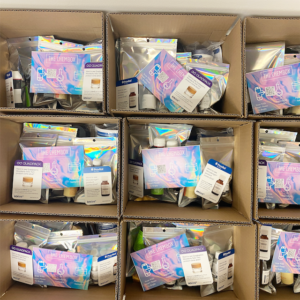 If you fit the criteria for receiving the ChemBox, I really encourage you to check it out as it's great fun to get a mystery box, but it's even more fun when the items inside are things you can really use and enjoy! I'll be sharing my chart for the ingredients, usage, and all those other things in another post shortly as I start using the ingredients and sharing my experiences.
Have you ordered this ChemBox? What are your experiences? Please share your thoughts, questions, suggestions, and everything else in the comments!