I'm so excited to have the amazing Ginger L. Moore, owner of Neos Skin Care™ and aromatherapist, as a guest writer with her own column here on the blog, Going beyond essential oil trends with Ginger L Moore, where she'll be sharing all her expertise and wisdom about essential oils with us! She's an amazing business woman and all around awesome person whom I have had the privilege of getting to know better over the last year or so, but have been following for many more than that. We both started our life's work at the same time ten years ago – Ginger with her business, me with the blog – and we've been travelling in the same circles for about as long, seeing each other in various Facebook groups and such.
I'll let Ginger take it from here…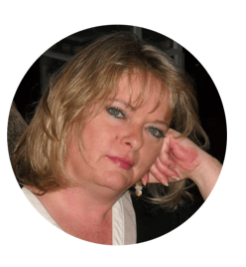 Hi, I'm Ginger L. Moore. I wear many hats, including wife, mom, home educator, professional formulator, and budding aromatherapist. I have a keen interest in all things holistic and science-y. As a solo entrepreneur, I founded Neos Skin Care™, a small artisan cosmetic company, in spring of 2009. I'm a born and bred Southerner, raised in southeastern Tennessee where I still live today with my husband and son. With my southern roots running deep, you could say I'm a "modern Southern Belle." I also might have a bit of an addiction to coffee and foster a not so secret love for chocolate.
Now that you've seen a glimpse of the informal "me", the more formal professional "about me" reads like this.
For the last 30+ years, Ginger L. Moore has had a passionate interest in holistic health, beauty, skin care, and homemaking. She was introduced to a holistic approach to medicine back in the 80s while working as a certified professional in the medical field. Feeling drawn to this then uncommon arena, she began to explore and study practical applications within CAM therapies and in the course of that, also stepped into cosmetic formulating. Today, she is a professional formulator and the founder and owner of Neos Skin Care™, a small artisan beauty boutique that focuses on quality, handcrafted cosmetics. Ginger also teaches and consults.
Ginger continues to expand her educational horizons and gain valuable experience, both formally and informally. Currently, she is studying to become an aromatherapy practitioner at Atlantic Institute of Aromatherapy under the instruction of Sylla Sheppard-Hanger and Nyssa Hanger. Her hope is to help bring a more balanced, comprehensive element to the industries she loves and help educate those within her realm of influence with the same values.
If you wish to learn more about Ginger, you can visit her professional Facebook page or Neos Skin Care™.
Welcome aboard, Ginger!
We'd love to hear your thoughts about what you want to know about essential oils! What myths have you heard? What experiences have you had? What interests you about essential oils? What concerns you? How much do you know about using them safely and how to use them in our products? Please share any and all thoughts in the comments!