Woo! Voyageur Soap & Candle in Surrey, B.C., is about to post the schedule for the classes I'll be offering. Click this link to learn more or to register! (It may not be up when you click, but I wanted you, my lovely readers, to be the first to know!):
As a note, all my classes – and, indeed, all classes at Voyageur – are hands on, and all the formulas are customizable to take into account your hair or skin type, the season, and any sensitivities you may have.
All day, Saturday, February 2 – ECO skincare. I'm so excited about this class creating natural skincare products using green, biodegradable, ECOcert ingredients, including botanical extracts, and natural oils and butters. We'll be making luscious body lotion bars, emollient body oils, exfoliating sugar scrub bars, and moisturizing creams using Ritamulse SCG to chase away winter skin woes. We'll end the day blending essential oil rollers with all kinds of skin friendly oils for what ails you!
Half day, Sunday, February 10th – Valentine's Day. Make something lovely for yourself or a special someone else by joining us for a half day class to make a moisturizing massage bar, fragrant spa candle, warming massage oil, fizzing foot bath, and soothing foot lotion.
All day, Saturday, February 16 – Lotion making 101! Learn to make five decadent lotions using Polawax, Incroquat BTMS-50, and Ritamulse SCG in this all day class, then take home a formula package and ebook to continue your experiments!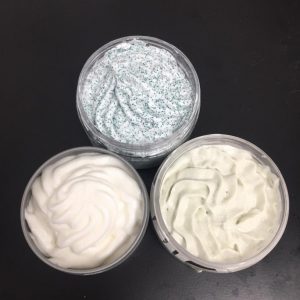 Half day, Sunday, February 24 – Whipped body butters! Learn how to make two anhydrous, super emollients butters, then make a whipped, ECOcert, natural body butter lotion using Ritamulse SCG!
Full day, Saturday, March 2 – ECO facial care. Join me for an all day class on making luxurious facial products using natural oils, botanical extracts, and green, biodegradable, ECOcert emulsifiers and surfactants to make an ultra moisturizing facial serum, a vitamin packed targeted treatment, a hydrating botanical toner, a rich night cream, and a foaming facial cleanser. (As a bonus, learn how to use these products with sheet and dry clay masks.)
We're off on an awesome adventure in mid-March to mid-April – more about that soon – so while I'll be blogging and sharing all kinds of fun things, I'm taking a break from teaching, but will have more information shortly on what we'll be offering in late April and later.
If you can't get into the classes, Voyageur generally sets up a waiting list. Contact them at 604-530-8979 to get on the list and to be notified of cancellations.
We're open to the idea of travelling to teach in all kinds of places, so if you'd like us to consider coming to your town, please write to me at swiftcraftymonkey@swiftcraftymonkey.blog with your ideas. If you know of any places that might host us – a supply shop, arts centre, local soaper – or locations at which we might teach, please include those.