Hi everyone! I'm having a blast offering these Zoom workshops and engaging with you in the Discord chats, and I hope you are too! I've been working through the schedule for the summer, and here's what I thought would work for various dates…
Please note Discord and Zoom workshops are only available to subscribers, so please don't add or invite someone who isn't part of this community. If you cancel your subscription or the payment fails, you won't be able to attend them any longer.
Discord chat times
You're always welcome to chat in the Discord channel I've set up! There's a great conversation going on over there all the time, which is so freakin' awesome!
Here's the link to the general discussion chat – https://discord.gg/TZwVnqR
I will have other chats set up in the near future, some for specific things, others for general things, and I'll share those when they happen.
I've been popping in from time to time as there's always a great conversation going on, but these are the times I'll be present on general formulating chat channel.
As a note, these are all Pacific Daylight Time, which is Vancouver, Canada time. I'm happy to work with other times than I've written here as I'm trying to make them accessible to everyone. It doesn't work for me to do anything earlier than 8 am or later than 8 pm as that's bedtime around here, according to our little pup Sasja, but I'm happy to try anything between those hours, so let me know in the comments.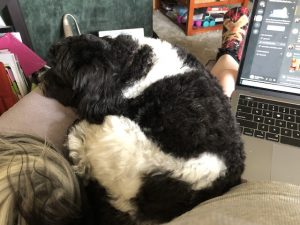 I've decided to set up a regular chat for Wednesday at noon PDT. There isn't one Wednesday, July 1st as it's Canada Day, and I'm taking the day off to eat poutine and maple syrup and perogies and all kinds of other stereotypical Canadian foods.
This is how I do all my work, with baby Sasja snuggled into my side or between my knees. And yes, the chaos you see is pretty much what it's like all the time when I'm writing. Actually it's usually way more chaotic!
Tuesday, June 30th from 1 pm
Thursday, June 2nd from 5 pm
Sunday, July 5th from 11 am (no Zoom that day, so let's chat instead)
Wednesday, July 8th from noon
Friday, July 10th from 4 pm
I'll post more here as I schedule them.
Upcoming Zoom workshops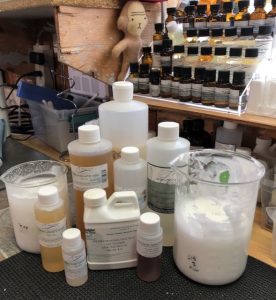 For all of these, the few days before the workshops, I'll share the handout with formulas and more information along with the meeting link and password. Look for those the Thursday through Saturday before the Sunday workshop.
This is the tentative schedule for July and August. These may change depending on the weather as my workshop doesn't have air conditioning, and it can get super hot in there in late July/early August. I will be continuing these September and beyond, but I'll be back at university, and I need to see what my life looks like then.
As I'm offering two of these workshops a month, and there are so many things to cover, I'm unlikely to offer the same thing twice, so this is likely your only chance for this topic.
As a note, these are all Pacific Daylight Time – look for Vancouver, Canada. I've been trying to find other times to hold these to include as many people as I can, but this is the time that works best for us, giving us time to get ready and time afterwards to tidy up.
All of these start at 11 am Pacific Daylight time and go to around 1 pm or so. I sometimes go a titch longer, but I'm getting better at not talking as much!
As the weekend of July 4 to 5 is the first weekend in summer, potentially the observed long weekend for Canada Day, and a holiday in the States, we're thinking of taking this weekend off. If you think you might attend something if we put it on, let me know in the comments. I was thinking of doing the Discord chat that day, but we could do something easy to set up, like a tour of the workshop or new ingredients I'm loving? Let me know in the comments.
Sunday, July 12 at 11 am PDT to around 1 pm PDT: Emulsifiers! Join me for this Zoom workshop in which we'll be talking emulsifiers of all sorts – Polawax, e-wax NF, Olivem 1000, Simulsol/Lotionpro™ 165, Ritamulse SCG – along with some of my favourite quick and cold process emulsifiers. And we'll make a lotion or two, time and temperature willing.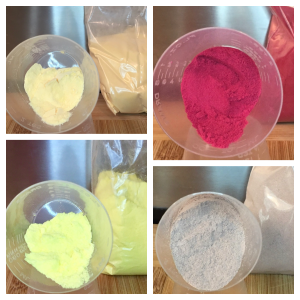 Sunday, July 19 at 11 am PDT to around 1 pm PDT: Solubility! Join me as we investigate how our ingredients dissolve in water or oil as we make a cold process facial moisturizer using all kinds of actives, cosmeceuticals, and botanical extracts, like allantoin, Vitamin C, Vitamin E, panthenol, and more! (We'll probably play with facial and eye sheet masks in this one as we did in the mixers one!)
Sunday, August 9th from 11 am to around 1 pm PDT: Botanical extracts! We'll be taking a look some of my favourite powdered, water soluble, and oil soluble extracts, like white willow bark, grapeseed, green tea, carob seed, bamboo, and so many more, then we'll create a conditioner and a facial product with them. (If you can attend the solubility workshop, we'll be talking a bit about extracts in that one too.)
Sunday, August 23rd from 11 am to 1 pm: Facial products! Join me as we take a look at formulating facial products by reviewing ingredients we might like to include, like actives, cosmeceuticals, botanical extracts, oils and other emollients, silicones, acids, vitamins, and so much more. We'll create a few base formulas and talk about how we can alter them to include ingredients specific for our skin type. We'll also take a look at the importance of pH. (Warning: I think this one might go over the 2 hour mark as there's a lot to cover.)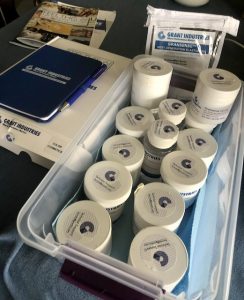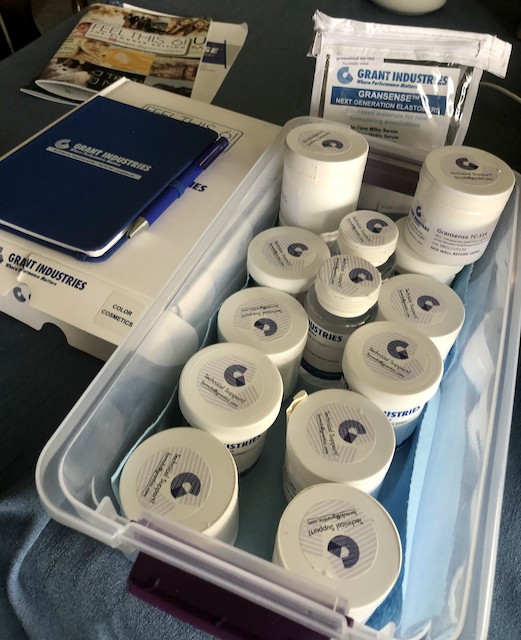 Sunday, August 30th from 11 am to 1 pm: New ingredients extravaganza! Join me as I share some of my favourite new ingredient with you with ideas on how to use them in your products. We'll make something – not sure yet as it's two months away, I'm very attracted shiny things, and who knows what'll catch my attention before then!
If you'd like to get notifications when I post on the blog – which will include notifications when I post things about Discord and Zoom workshops – please sign up for the daily or weekly digest sent to you by email. (We pay a fortune for this service, so please use it or we're wasting money.)
I share the information on Facebook and Instagram at least twice – find me there as SwiftCraftyMonkey. But this is the main place I share information.
If you want to attend the workshops, please write it down in a planner or update your calendar in your phone about it and create an alert that'll remind you at that time or sooner, like an hour or day before. When I share these, people love to tell me that they would have attended, but they had something more important going on, like napping or sleeping or doing nothing, which is a bit hurtful, and I don't think they intend it that way.
They are being recorded for our purposes so we can review them to make changes and so we can see the chat and answer questions after the event, but we aren't sharing them here. These are very much workshops of the moment, and when that moment's over, only the memories remain.
And finally, I'm wondering where I can put these posts so you'll see them, and I'm wondering if pinning them in the pinned posts area (to the right on desktop, at the bottom on mobile) would be a good choice? What do you think?