Hi everyone! I hope you're all hale, hearty, and happy this second week of July! It's a bit chilly around here, which makes me so unbelievably happy as I'm really not one for the sun and warmth.
I thought I'd share some of the things happening around here and update the schedules for Discord chats and Zoom workshops.
Please note that the Zoom workshops and Discord chats are for subscribers to the blog, so if you want to participate, please make sure your membership is up-to-date.
Upcoming Zoom workshops
I've gone into greater detail in this post, this is just the summary…
For all of these, the few days before the workshops, I'll share the handout with formulas and more information along with the meeting link and password. Look for those the Thursday through Saturday before the Sunday workshop.
I'm afraid I don't have time to send you an invite, meeting link and password or handouts, so please check here regularly and make a note the date of the workshop in your planner or phone.
If you want to be notified by email when I post on the blog, click this link to sign up for the daily or weekly blog post digests.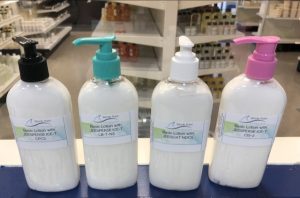 THIS WEEK: Sunday, July 12 at 11 am PDT to around 1 pm PDT: Emulsifiers! Join me for this Zoom workshop in which we'll be talking emulsifiers of all sorts – Polawax, e-wax NF, Olivem 1000, Simulsol/Lotionpro™ 165, Ritamulse SCG – along with some of my favourite quick and cold process emulsifiers. And we'll make a lotion or two, time and temperature willing.
Sunday, July 19 at 11 am PDT to around 1 pm PDT: Solubility! Join me as we investigate how our ingredients dissolve in water or oil as we make a cold process facial moisturizer.
Sunday, August 9th from 11 am to around 1 pm PDT: Botanical extracts! We'll be taking a look some of my favourite extracts, then we'll incorporate them into a conditioner and facial product.
Sunday, August 23rd from 11 am to 1 pm: Facial products! We'll take a look at a number of ingredients we could use in a few base formulas for facial care products, along with a quick look at the importance of pH. (Warning: I think this one might go over the 2 hour mark as there's a lot to cover.)
Sunday, August 30th from 11 am to 1 pm: New ingredients extravaganza! Join me as I share some of my favourite new ingredient with you with ideas on how to use them in your products. We'll make something – not sure yet as it's two months away, I'm very attracted shiny things, and who knows what'll catch my attention before then!
Discord chat times
You're always welcome to chat in the Discord channel I've set up. I've been popping in from time to time as there's always a great conversation going on, but these are the times I'll be present on general formulating chat channel.
Here's the link to the general formulating discussion chat – https://discord.gg/TZwVnqR
Here's the invite to the Newbie Tuesday channel: https://discord.gg/atsMCYF
The goal for this channel is to have specific conversations about the Newbie Tuesday series, like talking about the latest formulas or how changing the oils changed the formula. I will be scheduling specific times for this one for chats, but it's here if you want to go back and see what was said during the chat times.
I'm holding one Tuesday, July 21st at 1 pm PDT specifically for the most recent series on lotions. Click here for the last post with all the links. If you can't make that, let me know what times of the day and days work best and we'll schedule a second one.
Here's the invite to the shampoo bar channel: https://discord.gg/3TqgyTR
Are there other channels you think we could create? Share your thoughts in the chat or in the comments below!
As a note, these are all Pacific Daylight Time, which is Vancouver, Canada time. I'm happy to work with other times than I've written here as I'm trying to make them accessible to everyone. It doesn't work for me to do anything earlier than 8 am or later than 8 pm as that's bedtime around here, according to our little pup Sasja, but I'm happy to try anything between those hours, so let me know in the comments.
I will have a weekly chat on Wednesday at noon every week! Woo!
Wednesday, July 8th from noon PDT
Friday, July 10th from 4 pm PDT
Monday, July 13th from 3 pm PDT
Wednesday, July 15th from noon PDT
Friday, July 17th from 2 pm PDT
Tuesday, July 21st from 1 pm PDT – Specifically a Newbie Tuesday chat (click for those posts)
Wednesday, July 22nd from noon PDT
Wednesday, July 29th from noon PDT