Happy last Saturday of January! Where did the time go? Today is the day we hold a video game club for the youth programs Raymond and I run – collectively entitled Rated T for Teen – so we're off to play some Rock Band and get our bums kicked playing Super Smash Bros! (I love video games, but I'm not very good at them…) Every single penny you spent on the five e-books we sell here, at Voyageur Soap & Candle, Windy Point Soap Making Supplies, and Lotioncrafter goes to support our youth programs!
They went to support Melt4Mutts Senior Dog Rescue run by Mike and Grant on Vancouver Island for September and October because who doesn't like puppies?
The e-books are those in the shop that aren't called Adventures in Cosmetic Chemistry, like the Facial Products, Hair Care, and Back to Basics.
I realized a while ago that we have a really lovely community growing here in the comments, but I don't have time to participate as I've set myself a pretty punishing schedule of writing, so I've slowed down to catch up on correspondence and to participate more on the blog. I'm really enjoying reading the comments, watching you all connect, sharing information, and generally loving this amazing craft and talking to each other about it. Thank you for making my blog my happy place! You really are so awesome!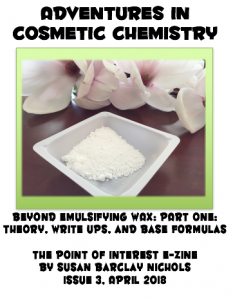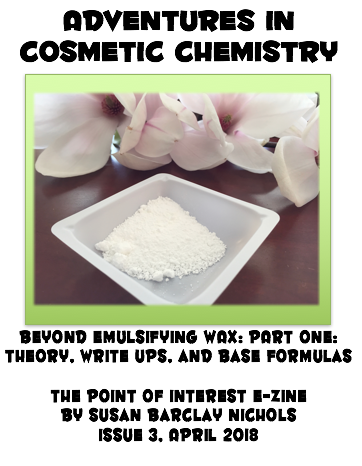 I'm putting the finishing touches on the e-zine – I'm now up to five that are works in progress, so I'm still not completely sure which one will be out early next week – and we're drafting out a few more for future months as there's just so much interesting stuff to share with you!
If you missed an e-zine that was issued before you were a subscriber, check out the shop to see them all.
That post I started writing about my potential duplication of the Tarte Frxxxtion Stick has so far produced three posts that total more than 7,000 words and a side post on the polarity of oils that has reached 3,000+. I know I'm wordy, but this really demonstrated how much I need to share all kinds of chemistry with you! The good news is that I'm getting this all organized so I can finally share all my esters and silicones stuff, and the ongoing experiments that are using rheology modifiers, like gels and gums, in lotions. I should have the first of these posts shared early next week.
I'm enjoying writing the Formulating Fundamentals Friday series, but I wonder if you're as interested in it as I am? There hasn't been a ton of feedback, so if you're interested in seeing more of this, please share your thoughts in the comments.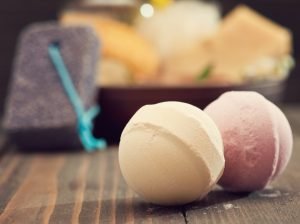 We welcomed a new guest blogger to our ranks, Marg Peebles, who shared two posts on filling out Cosmetic Notification Forms in two posts – introduction and more thoughts on filling these out – and she's taking your questions!
Melinda Wolff-Foster, guest blogger of the Let's Talk Pets with Melinda posts, is now a regular contributor to the blog! Her bi-weekly series on dog cosmetology starts on January 31, and a new part will be posted on the 15th and last day of the month.
Do you have some ideas for other topics you'd like to learn more about? Do you have some ideas for a guest blogger? Please share your thoughts in the comments, or write to me at swiftcraftymonkey@swiftcraftymonkey.blog with the subject "Guest blogger" or "Suggestion for series" and I can send out my letter of expectations for writing for the blog!
We do have plans for a few posts on labelling as well as some information coming from the Handmade Bath & Body Guild (Canada) shortly, but we're always eager to hear more!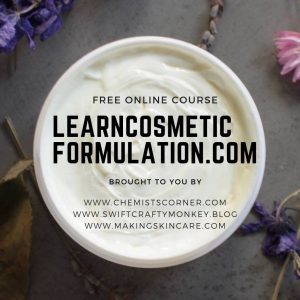 Don't forget about joining the free formulating course Jane Barber of Making Skincare, Perry Romanowski of Chemists' Corner, and I are offering over at Learn Cosmetic Formulation! Another amazing chemist has joined the course and will be sharing her wisdom soon!
We have another free course we'll be sharing shortly as we approach the end of module 4 that Jane and I have been working on for a while. We're super excited about it!
Don't forget to check out the post Where can we find some great chemistry or formulating related media like podcasts, books, videos, Facebook groups, or pages? to find other awesome places you can be more science-y and connect with our community. I've been added as an admin to the Making Naturally Compliant Cosmetics Facebook group as so many of you are joining over there, which is great!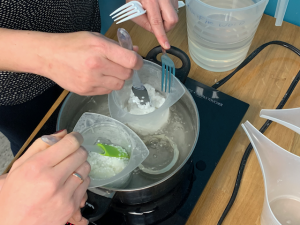 If you're interested in taking courses with me in person, check out this post I shared earlier in the week about my classes at Voyageur Soap & Candle in Surrey, B.C. I'm offering five courses there in February and early March – ECO skin care, ECO facial care, whipped butters, Valentine's Day, and Lotionmaking 101. Click here to register!
We are taking suggestions for places we could teach from May to October-ish right now, so if you'd like us to consider coming to teach in your area, please write to me at swiftcraftymonkey@swiftcraftymonkey.blog with the idea for your city or town, and if you know somewhere we could hold it, like your shop or workshop, a nearby shop or workshop, a friend's soaping kitchen, community centre, or anywhere else, please let us know. Please put something like "Idea for a class" or "Come to my town, Swift!" in the subject line as I'm collecting all this information for a future planning session.
I'm not kidding about travelling – we're going to England and France from mid-March to mid-April for In Cosmetics in Paris, and I'm definitely going back to Windy Point Soap Making Supplies at least twice this year!
Speaking of Windy Point Soap, they're expanding and taking suggestions for ingredients they should carry! I've been campaigning for loads of new surfactants and weird blends along with a few more ECOcert or unique emulsifiers. What ingredients would you like to see in Canada? You can make suggestions on their Facebook page.
I put in an order yesterday, and a few hours later, they announced they have bio-glitter, which I missed! It looks amazing!
I think that's it for now! I better get back to work!