Hi everyone! You've probably noticed the posts just stopped this week. Sorry, things are going kerplooey around here at just the wrong time, and everything is coming to a screeching halt.
The series on Lush products has stopped for the moment as I finally received my American Pie solid body lotion with INCI names, and it's changed the formulas I was trying to make. I'll still share my entire process, but I've had to go back to the drawing board and create new formulas that are closer to that ingredient list.
Raymond isn't feeling well, and he needs some down time to rest and get better. If you've been writing to him for tech support, it might be a day or two before he gets to them. Sorry about that. I'm not feeling really great either, almost flu-y, achy and sore and too warm.
We're having serious issues with PayPal, so we've had to remove it as a method of payment for everything for now, which is deeply concerning because May 1st is next week, and we need it to work for subscriptions. We've had to drop everything to deal with this, and I'm so incredibly frustrated. I have no more information than that at the moment, but I'll keep you updated!
The April 2019 e-zine is coming – It's not easy being green, part two: Silicone replacements – but I need to finish it off, then get Raymond's mad tech support skills to set it up for the coupon and such. It will be here shortly!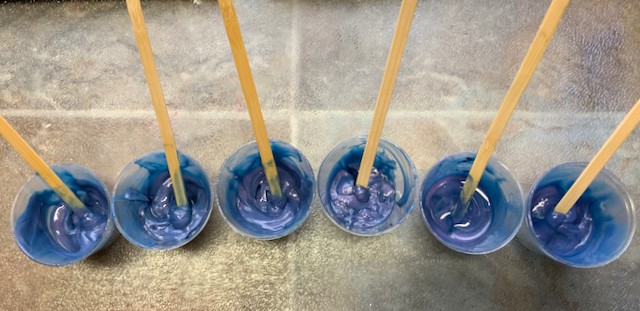 The great thickening clay experiments have begun! (Click here for the list of links for that series!) I can't wait to share various results with you!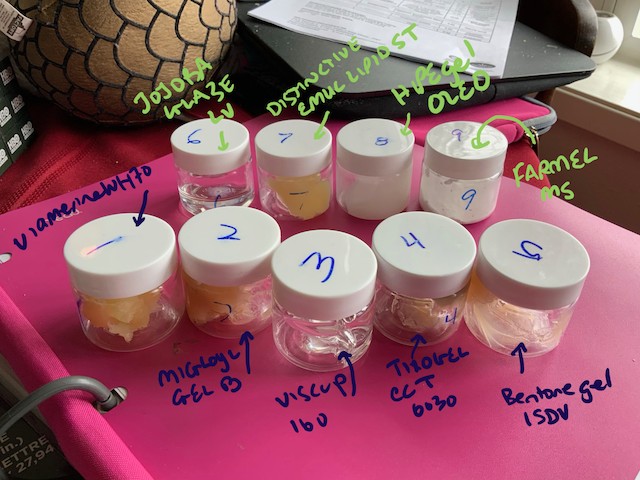 If I can be brutally honest, I'm almost overwhelmed with all the possibilities right now after spending time at the lab in London, then In Cosmetics.
Click here to see what I brought home with me, and check out the oil gelling ingredients I was sent by Tammy Lisi of Unicorn Chemist in the picture above!
My brain won't turn off as I have so many new things to share, so many new ingredients I want to use and share, and I'm finding it hard to concentrate on one thing. I know, poor me, right? But it's derailed my plans for posts. And I'm finding that I need to explain a bunch of stuff to explain why something is useful or awesome – such as why some esters are lighter and easier to spread than others – which is also holding some posts back. I need a day or two to do some planning next week, and I'll feel less chaotic!
Thanks for your continued support of the blog and of us!