I should have been writing this to you from In Cosmetics in Barcelona, but we're in quarantine at home in Canada, as all travellers must be for 14 days. Every day I wake up and try to wrap my head around what's going on in the world, and I still can't – it's just all too surreal.
Weirdly, my day-to-day life hasn't changed much – we work from home, and I don't tend to go out much during the week – but I miss our youth programs on Thursday night. We're playing our usual Tuesday night Dungeons & Dragons game via Roll 20, and hope to do the same with our youth group based games this weekend. As much as this satisfies some of my needs for social contact, it's not the same as having a coffee out or inviting people over for dinner and video games.
But that's what we've got – and I know we're so much more fortunate than so many people as we're well and together.
I'm working on getting some social stuff going on the blog here. I'm looking at different programs and possibilities, and hope to have something to share shortly. I thought it would be fun to offer an informal workshop or class or maybe just a few hours of following me in the workshop as I make things as well as a virtual cosmetic chemistry coffee klatch or two.
It looks like Zoom might not be a good option due to all the security issues, so I'm having to find something else we can use.
It's more important than ever that we stay connected with each other however we can. I'm so lucky to be living with Raymond, someone with whom I can talk all day and do, but I know there are many of us who are isolated from everyone we love. It's a brutal time, but all of this is necessary to stop this pandemic, save lives, and prevent suffering. We need to do all we can to protect ourselves and others by practising social or physical distancing, washing our hands for 20 seconds, and looking out for each other by offering support and kindness.
I'm not sure what'll be happening around the blog this month yet. I've been working on the last posts for the simple esters series and should have the next part of that series up shortly.
Newbie Tuesday will continue as we make a few different lotions using Ritamulse SCG.
I have all kinds of new ingredients I've been using and writing up over the last year that I'm starting to share – like the two carrageenan posts – and all kinds of formulas to share using them and many old favourites.
I know it's a time where supplies might be hard to find, so I've been working on posts using substitutions for ingredients like emulsifiers or rheology modifiers. Please feel free to ask for substitutions on formulas, but please let me know what you have at home to make that process easier.
As we do every month, if you're a $3 subscriber or higher, click here to see the duplication request post!
If you're a $5 subscriber or higher, click here to see the month's Q&A post! (I've continued from last month's post as there were some great questions I needed to look at again!)
And don't forget about the monthly Super happy fun member-to-member post for April 2020! It's more important than ever that we connect with other people during this awful time, so please feel free to share your thoughts on this post or others on the blog!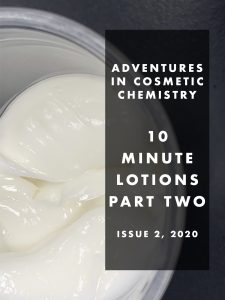 If you're a $10 subscriber or higher, you'll get the e-zine for the month – which is generally issued on the 27th or later*. I'm not sure what the topic will be yet, but there are – as always – a few different ones on the go.
Last month's e-zine was 10 minute lotions, part two!
If you're a $10 subscriber, don't forget that we have these awesome coupons from great suppliers!
Lotioncrafter (updated for April)
Voyageur Soap & Candle (updated for April)
Formulator Sample Shop (updated for April)
Formulator Sample Shop EU (updated for April)
Windy Point Soap Making Supplies (updated for April)
Save on Citric & Make Your Own Buzz (awaiting update)

For the month of April, all the proceeds from the sale of the big five e-books –
Back to Basics
,
Lotion Making 101
,
Hair Care Products
,
Formulating Lotions & Creams
, and
Formulating Facial Products
– will go to the
Chilliwack YMCA
.
All the money raised by selling those e-books would normally go to our free community youth programs, Rated T for Teen, but since we can't hold any, we thought we'd support a local organization that supports everyone in our community, from infant to senior. They do such good in our community – they've opened up their day care so essential workers are supported and they have so many online fitness videos to help us keep active – and they offer a place where everyone belongs. They offer loads of free and really low-cost memberships to those who need it, and I can't count how many families I brought to them as a family counsellor whom they subsidized.
Thank you for joining us for the month of April. I know it's a very strange time, and I'm so honoured you're choosing to spend it with us.