I love December! It is, indeed, the most wonderful time of the year for me! My mom's birthday is today, the first; on the 16th, we adopted little puppy Sasja; on the 19th, it's my unofficial dating anniversary with Raymond (25 years!); on the 21st, it's my birthday; of course we have Christmas; then on the 31st, it's the day I was adopted at 10 days old. It's a month of fun, laughter, presents, food, and friends.
You can tell I'm a December baby – I do love the cold. Where I live in Canada, we don't usually get a lot of snow, and we're so unaccustomed to it, we don't have snow tires and aren't really adept at driving in it. I always say that when someone says it's easy to drive in the snow, just watch out for the other drivers, that I am the "other driver" about whom you have to worry!
I wear shorts or short pants almost all year 'round as it's so warm everywhere! My old office, my clients' homes, the places I teach – they all have the temperature up high. Although this year, there was a natural gas pipeline burst, and they're suggesting we turn the heat down to 18˚C or 64.4˚F when we're out of the house or sleeping, but we're way ahead of them there as this is normal for us. (If you come to visit, don't worry as we have many cuddly blankets to share.)
When we were in Calgary it was very cold – -11 ˚C with snow, which was awesome! – and I did wear pants when we were walking around the zoo. But when I went to Windy Point Soap to teach, I always wore shorts as I tend to move around a lot and overheat!
If you're a $3 subscriber or higher, please click here for the monthly duplicating suggestion post.
If you're a $5 subscriber or higher, please click here for the monthly Q&A post.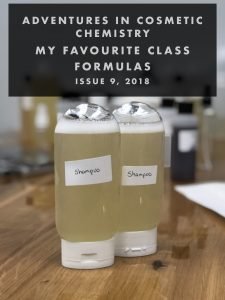 If you're a $10 subscriber, look for the e-zine around the 25th of the month. Please note, we don't send you the e-zine. We share a post here that has a coupon code you can use in the store to receive the e-zine for free. I try to have that post linked in the pinned posts' section you'll see to the right to make it easier to find.
For November, I shared this e-zine – My favourite class formulas, which you can find in the shop for purchase. And you can also find my e-zine, It's the most wonderful time of the year!, all about Christmas present ideas there for purchase, too.
$10 subscribers can also look forward to a Lotioncrafter coupon, which we'll post shortly.
And there's a Windy Point Soap Making Supplies coupon for the month! Click the link to learn more!
And finally, there's so much conversation happening in the Member-to-member super happy fun wonderful sharing & caring post for November, I'd hate to be the one to ruin that, so you let me know what you want! Should I create a new one for December with links to the previous ones, or change the name to be the …post for November & December!
I'm so excited you're joining me for December!