Welcome to July! We're halfway through the year! And it's summer, my very least favourite season of the year with all its hotness and heat and sun and more heat. We've been experiencing record breaking, "once in a millennium" heat where I live, breaking records every day, and we've seen the hottest day in history on record in my town at 45˚C (113˚F) and in Canada (in Lytton, about 124 km or 77 miles north of here, it measured a terrifying 49.7˚C, 121.5˚F, hotter than the hottest day in Las Vegas by 3˚F to 4˚F, depending on the official-ness of the measurement) – but even with normal summer temperatures, it's wise to summer-ize your workshop and your products so they can make it through the season.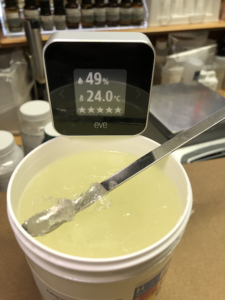 If the melting point of lauryl laurate, a simple, solid ester, is 23˚C to 30°C (73˚F to 96°F), what's the temperature of my workshop if it's liquid? Yep, as of 9 pm Friday, June 25th, it was 33.5˚C (92.3˚F), and at 8 am Monday morning when I took the photo at the top, it was 28˚C (82.4˚F) and rising, which means so many things are trying to become liquid back there – coconut oil, babassu oil, cetyl ricinoleate. Fortunately, I have a fridge with a tiny freezer back there, so I've been able to store the more melting-at-slightly-higher-than-room-temperature ingredients in there for the summer.
This morning, it was a balmy 24˚C or 76˚F, which is still far far too warm and the lauryl laurate is still liquid, but it had a solid layer on the top!
If you can't put your ingredients into a fridge, remember that a cool, dark place away from sunlight is a good option for ingredients that can be affected by light, like our oils, butters, and other natural emollients. Both heat and light can cause oxidation in our products – learn more about this in the anti-oxidants & rancidity section of the blog.
Oxidation isn't something you want. It won't bring heat and light energy into your body, which is something I read by someone who was touted as an expert on oils. It will only bring grossness and foul odours.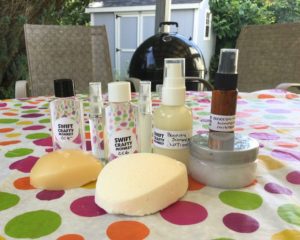 Here are a few of my summer posts from previous years! Check out the tag "summer" to find more or do a search for the word "summer. As well, check out last month's e-book – Learning to formulate: Body milks and light lotions – as well as the e-books, Vital Vacation Products and Summer Products.
Heat-proofing your whipped butters! (Summer 2020 version)
Ingredients that'll make your skin feel cooler
What do we want in a summer products? Some ideas and a formula for a 98.5% to 99.5% naturally compliant Olivem 1000 summer body milk with tamanu oil.
Peppermint & chamomile cooling spray – one of my all time favourites!
Creating a light hydrating summer body milk with Olivem 1000 – part one
Creating a light hydrating summer body milk with Olivem 1000 – part two
Creating a light hydrating summer body lotion with Olivem 1000 – part three, thickening with fatty alcohols, acids, and esters
Acids, bases, and pH – oh my! Creating a light, non-greasy summer weight lotion with Varisoft EQ 65 (part one, the water phase)
Acids, bases, and pH – oh my! Creating a light, non-greasy summer weight lotion with Varisoft EQ 65 (part two, the oil phase)
Acids, bases, and pH – oh my! Creating a light, non-greasy summer weight lotion with Varisoft EQ 65 (part three, formula and pH)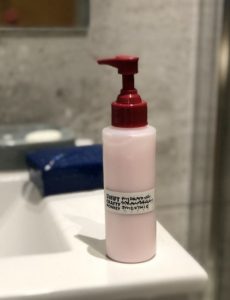 Summer products: 10 minute strawberry & honey parfait with ViscOptima SE, part one
Summer products: 10 minute summer lotion with ViscOptima SE, part two – hydrosols, floral waters & fruit essences
Summer products: 10 minute summer lotion with ViscOptima SE, part three – botanical extracts
Summer products: 10 minute strawberry & honey parfait with ViscOptima SE, part four – altering the emollients
Modifying products for summer: Making a cold process, mostly naturally compliant, more hydrating lotion with babassu oil
Modifying products for summer: Making a warm process, more hydrating, more occlusive lotion with babassu oil and Incroquat BTMS-50
Making a cooling spray – part 1 (updated)
Making a cooling spray – part 2 (updated)
Making a cooling spray – part 3 (updated)
Super extra aloe-y apres sun spray! 
What's going on this month on the blog? 
I had hoped to do some Zoom workshops over June through August, but it's far too hot in my workshop to allow for that at the moment, so I'll have to see when it "cools down" what's tolerable. I'll keep you updated here on the blog! (Sorry, we missed June for the same reason – it's just too darned hot!)
I am hoping to get some time to write up the rest of the Newbie Tuesday and Formulating Friday series for Olivem 1000 so we can finish it up by the end of the month. Sorry it's taking so long – I really over-estimated how much time I'd have to write those, experiment in the workshop, and test formulas I've had for ages along with the other things I have to do every month.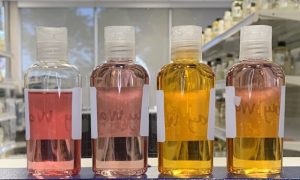 I'm thinking of starting a new Newbie Tuesday and Formulating Friday series in September and it seems like you'd like to know more about surfactants and how to make liquid shampoo, facial cleansers, body washes, bubble baths, and more? If so, let me know in the comments and I'll start getting the shopping list together and working on the posts. This would be a longer series as part of learning how to use them is to make the same product with different surfactants to see how they work as well as trying new thickeners and rheology modifiers.
I'm still working on sharing formulas from what accidentally become isomer month with all those esters and hydrocarbons, so you'll see more from them shortly.
And, very excitingly, I have some formulas I've been watching for as long as two years that I'm hoping to get written up with photos to share.
Of course, there are always new ingredients to share with you, like new powdered surfactants, liquid surfactants, cold emulsifiers, actives, extracts, and so so much more, and you'll see more of it!
Finally, due to the absolutely overwhelming and baffling amount of rudeness and entitlement I've been experiencing on social media this month, the Messenger function of the blog Facebook page has been disabled. If you wish to get in touch with me, please use the contact me page or comment in the monthly Q&A, the latter being the priority when it comes to answering questions or helping you with formulas.
As we do every month…
If you're in need of supplies, $10 subscribers to the month will have four discount coupons this month for Lotioncrafter, Voyageur Soap & Candle, and Windy Point Soap Making Supplies. Thank you for this lovely gift out of the goodness of your hearts, lovely suppliers! (These coupons will be updated as I get information from the suppliers. See below.)
Formulator Sample Shop (USA) is offering coupons again – yay, thank you! – so check out the suppliers' coupon section to see that discount code! 
As July 1st is Canada Day and an official day away from work for Canadians, if the coupons aren't updated today, they'll be updated shortly. I don't wish to bother suppliers on one of their very few days off to ask for them. They will be updated when they're updated and you'll be able to find those on the supplier's specific coupon page when it's done. Please do not write to them or to me about this as we know what's been updated and what hasn't. Thanks for understanding.
If you're a $3 subscriber or higher, click here to see the duplication request post! And don't forget that you have access to the formula directory! The formula directory is constantly being updated to include even more formulas from around the blog, so if you're looking for a formula, you'll find it in the formula directory!
Please note that requests for duplication are only considered if they're posted in the duplication section as this is part of the $3 and up subscribers benefits. I cannot possibly re-create every single formula suggested as this blog would be nothing but duplicated products, and how boring is that? I can only choose so many, and I go into detail about my process for choosing formulas in both the duplication request post and in this post.
If you're a $5 subscriber or higher, click here to see the month's Q&A post! (I've continued from last month's post as there were some great questions I needed to look at again!)
And don't forget about the monthly Super happy fun member-to-member post for July 2021! It's more important than ever that we connect with other people during this awful time, so please feel free to share your thoughts on this post or others on the blog!
You can always find the links to these monthly posts in the pinned post section, which is found to the right of just about every page on the blog on desktop and most mobile, or the bottom of every page for the odd mobile device. Or do a search for "Q&A" or "duplication" to find them. I'm afraid I don't have time to do searches for you if you write to me as I'm swamped, so doing one of those two things will find you those posts very quickly.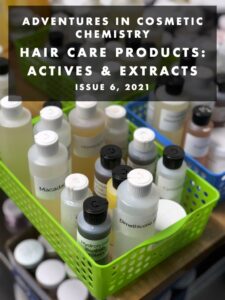 If you're a $10 subscriber or higher, you'll get the e-zine for the month – which is generally issued on the 27th or later. I'm never sure what the topic will be until I start reviewing outlines, notes, formulas and everything else, but there are – as always – a few different ones on the go.
Last month, you would have received Hair care products: Actives & extracts, a whopping 74 page e-book with 21 formulas that would normally have been $19 Cdn, but it was part of the $10 US subscription. (Click on this link to see more about this e-book for purchase.)
If you missed one for a month during which you were a subscriber, please click here to see those coupon codes. (Please download them as soon as you can as these links can expire after a year or so.)
Thank you for joining us for July 2021! We so appreciate your continued support of the site, the e-books, and our family! You're the reason we don't have to have ads, pop ups, sponsored posts, affiliate links, or any other advertising on the blog. You have no idea how much we appreciate it!