Welcome to month nine – or as we sometimes call it, September – of the year that seems like it's never going to end, where time has no meaning, and I have to set reminders to go outside every once in a while. Sorry to sound so gloomy and cynical, but August was a pretty hard month for us. Apart from the apocalypse that's currently raging around us, I've been suffering a lot of pain – see that post here – and we've had the endless difficulties with our web hosting service because we stupidly thought it would make things faster and more stable – seriously, avoid Siteground with ever fibre of your being – along with the big outage of the Internet on Sunday.
We apologize if you've been getting 503 errors. We are trying to get this sorted and Raymond has been working literally all day, every day trying to work around the terrible plan that Siteground won't take us off, but they aren't listening to us and they're charging a fortune for this nonsense that still doesn't work properly. We've been on the phone repeatedly with the tech support and customer service, and it looks like we will have to find another provider as they will not do what we ask. We're in touch with a few web developers now. This has been a colossal waste of money and time, and we are sorry for the frustration.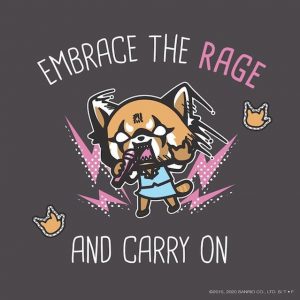 I know, I'm being a grumpster right now, but pain and frustration'll do that to you. Don't worry – a few days in the workshop or screaming thrash metal into my awesome new microphone for a few hours after this stupid tooth is pulled tomorrow (Wednesday), and all will be well again.
There's a reason Aggretusko is my favourite cartoon character! The new season just came out on Netflix, and yes, we've binged it all. It's short – 10 episodes, 15 minutes long – and there are three seasons to watch!
Ahem, where were we? Let's focus on some positive stuff! After taking a break back in 2016 when my mum was sick, I'm going back to university in a few weeks for more chemistry and science! It's online for the twice-weekly classes and bi-weekly tutorial, but I'm in the lab every other Wednesday – very physically distanced with 9 of us in a space where we'd normally have 40 to 45 – and I'm so excited!
New Newbie Tuesday series – beginner lotion making with four different emulsifiers!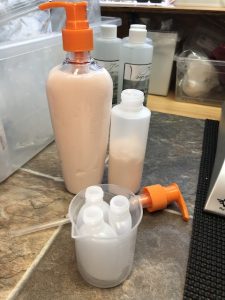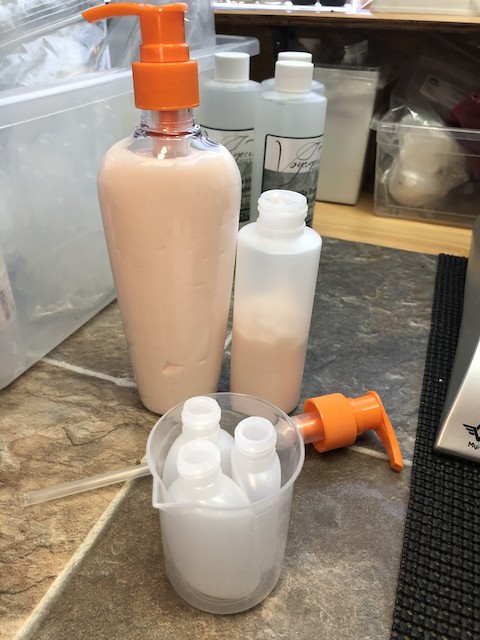 As I mentioned last month and in the post late last week, I'm starting a new Newbie Tuesday beginner lotion making series/course on September 8th, in which we'll spend a month working with one of four emulsifiers: Polawax, e-wax NF, Phytomulse, or Natragem EW in September; Incroquat BTMS-50 in October; Simulsol/Lotionpro™ 165 in November; and Olivem 1000 in December.
We'll be making three emulsions each month – hand & body lotion, body butter or cream, and a facial moisturizer, and there'll be a Zoom workshop in which we'll create one of the three. (Schedule coming soon.) Click this link to see the post on the ingredients, packaging, equipment, and other supplies you'll need for the series.
I should note the series/course is open to all subscribers at any level for the moment, so pop on over to that post to see how you can join in the fun!
As I mentioned in that post, when the series starts, there'll be a post later in the week in which we'll be modifying the formula to include all kinds of fun things, like rheology modifiers, esters, thickeners, silicones, and more so you can get an idea of how to take these base formulas to the next level! I'm super excited about this too!
Zoom workshops in September
I will be doing a Newbie Tuesday lotion making workshop on Sunday, September 13th at 11 am to 1 pm PDT in which we'll be making a lotion with one of Polawax, e-wax NF, Phytomulse, or Natragem EW. We'll make the lotion from start to finish, and I'll be happy to answer questions on this emulsifier, formulas using this emulsifier, and any part of the process as we go.
I missed the one on new ingredients in August, so I will be making that one up shortly. I'm not sure when – I'm still working on my schedule for the semester this week.
Zoom workshops are open to all current subscribers. There is a limit of 100 – which we reached before we even started the meeting for the shampoo bars workshop – so I recommend you get there earlier rather than later and hang out in the waiting room before 11 am!
For each of these, I'll be sharing the meeting link, password, and PDF with formulas and concepts the Thursday to Saturday before the workshop.
If you want to be notified when I post anything on the blog, please sign up for the email notifications – weekly or daily – using this link (which is found under "shop" in the menu).
Discord chats in August
Yep, I have a Discord channel now – SwiftCraftyMonkey – that's open to all current subscribers! I'm having a great time in there, and hope you're enjoying it too!
Don't forget I have a Discord server now with four channels – general discussion, shampoo bars, Newbie Tuesday, and soaping!
Click here to see the invites to the four channels!
Please remember that my Discord server is reserved only for subscribers so we can work together to create formulas, share formulas and screenshots, and generally talk everything formulating.
I haven't set times yet for the Discord chats as I wanted to hear what your schedules are like right now given school is back in session and people are going back to work. Please share your thoughts here or in the Discord general discussion chat and tag me so I can see what you think.
In general, these times aren't good for me (all PDT, Vancouver time) – Tuesday after 12, all day Wednesday every other week (as of Sept 16th), Thursday after 11 am, every other Friday (as of Sept 18th) from noon to 3 pm, and the Sundays I'm doing Zoom workshops. I'm happy to chat in the morning, afternoon, and evening. The great thing is that if you miss it, all the chat is still there so you can read it. And I don't need to be there – there's always a great conversation going on!
What else is happening this month?
Don't forget to check in to the Why did I buy this and what can I do with it? post to make suggestions for ingredients I might research and use in products. I'm hoping to get that started in up September.
As we do every month, if you're a $3 subscriber or higher, click here to see the duplication request post! And don't forget that you have access to the formula directory!
If you're a $5 subscriber or higher, click here to see the month's Q&A post! (I've continued from last month's post as there were some great questions I needed to look at again!)
And don't forget about the monthly Super happy fun member-to-member post for August 2020! It's more important than ever that we connect with other people during this awful time, so please feel free to share your thoughts on this post or others on the blog!
If you're a $10 subscriber or higher, you'll get the e-zine for the month – which is generally issued on the 27th or later. I'm not sure what the topic will be yet, but there are – as always – a few different ones on the go. If you missed one for a month during which you were a subscriber, please click here to see those coupon codes.
What else is happening?
For the month of September, all the proceeds from the sale of the big five e-books – Back to Basics, Lotion Making 101, Hair Care Products, Formulating Lotions & Creams, and Formulating Facial Products – will be donated to a local charity. We haven't chosen one yet, so I'll update the page when we make our choice.
All the money raised by selling those e-books would normally go to our free community youth programs, Rated T for Teen, but since we can't hold any at the moment, we're donating that money to other programs in our community.
So far, we've raised money for the Chilliwack YMCA, Chilliwack & District Seniors' Resource Society, and Mike & Grant's Senior Dog Rescue on Vancouver Island (formerly known as Melts 4 Mutts Senior Dog Rescue, to whom we donated in Autumn 2018), Wilma's Transition Society, and Chilliwack Pride. We haven't delivered all the funds yet to all the recipients because of the apocalypse and because for some, it means going to their physical location, but it's been set aside and will get there shortly. A huge thank you to our amazing readers for your support for these wonderful organizations!
Thank you for continuing to subscribe to the blog, participating in discussions, sharing your thoughts, and generally being awesome. I know Raymond and I are the most fortunate people in the world to have such amazing jobs we can work from home, and I'm honoured you've chosen to share your creative journey with us!