Update: We're coming home on Friday on a very very long flight home – Manchester to Paris, Paris to Toronto, Toronto to Vancouver!
As you can see, Raymond, Emrys, Bryce, and I are still in Liverpool, England, away from home on the other side of the world. We're all doing well – no signs of illness – but it's difficult to be away from home, and not know when we can get back to our little pup, Sasja, and our house and all the creature comforts along with a full freezer and pantry.
Thank you for worrying about us, for contacting us to see if we're okay, or offering help and ideas on how to get home. I'm a worried traveller who bought all the cancellation and medical insurance, so we're well-covered for a variety of emergencies. Liverpool is my family home, so I've already warned my cousin we may be coming to live with him for a bit if they boot us from the apartment we're in now.
I have no idea what's going on at the moment. We've been in touch with our travel agent in Canada, the cancellation insurance company, and another company that's supposed to help us, but considering we've heard nothing from them except "it may take 48 hours to respond to messages", we're going into town today to see if we can find a travel agent here who might help. We've been looking at flights online, but it seems the airlines who were crying poverty last week are profiteering this week and so far, the cheapest flights we've found out of London were $3,003 each, one way, with Air Canada. (We will be reimbursed by the insurance company within 45 days, so that's nice, right?)
I think these companies who are supposed to be helping us are stalling because unless we leave in the next day or two, the government is saying Canada won't be accepting international flights to all airports, but they won't say which ones. We'd be coming through Vancouver airport, which is a pretty big one, so I think we're okay?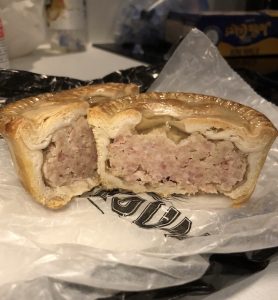 I've written all of this to let you know we're fine. We're eating loads of pork pies, sausage rolls, and Scotch eggs, but could always use more.
Again, thank you so much for worrying about us. We really do have the most wonderful readers ever, and your kindness means so much!
Hope you're all doing well out there wherever in the world you are!
In case you're wondering, the picture at the top is of Queen Avenue in Liverpool, just off Castle Street.
And this is an epic pork pie from the town of Ormskirk from their Thursday market, which has been happening every week since 1292!