There are so many great suppliers in the States, and as with the other "where can we get supplies" posts, I encourage you to add your favourites with your opinion of their selection or service. If you get specific ingredients from these retailers that are hard to find, please note that as well.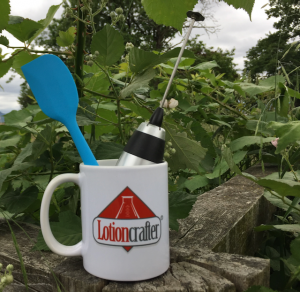 Lotioncrafter: You know how much I love Lotioncrafter and the owner, Jen, and I can't recommend them enough. They carry all kinds of things for making high end or luxury ingredients, and every day, they're adding ingredients to their inventory. They've branched off into surfactants, and I cannot recommend enough taking a look at that section if you want to make anything like shampoo bars, facial cleansers, and more. I know I'm biased here, but I love how committed they are to the science of our ingredients!
As a note, most months, $10 subscribers get a coupon to save money at Lotioncrafter! Thanks, Jen!
Formulator Sample Shop: I mention this company a lot around here as they have wonderful things, from extracts to emulsifiers to all kinds of high end ingredients. Again, can't recommend them enough as they're just great.
Wholesale Supplies Plus: I've been shopping here a lot lately as they have some awesome fragrances.
Making Cosmetics: This is a great store for finding interesting ingredients, like extracts, emulsifiers, esters, and other neat things. I shop at this one a lot, too.
The Personal Formulator: Unfortunately, they've gone out of business recently, which is tragic as they had all kinds of weird and wonderful things!
Brambleberry: I understand the retail store, Otion, is gone, which is sad as I love their fragrances so much, and the shipping it brutal to Canada. They have an awesome web site full of soap recipes and other formulas, and have a great selection of micas and molds.
The Herbarie: This is a great place to get a ton of different emulsifiers, preservatives, and surfactants. I have an ongoing wish list at the Herbarie because there's so many awesome ingredients! I've purchased from her before, and my only complaint is the minimum order for Canadians ($100) and the handling charge ($25), which you can get around by having it shipped to the border if you live close enough (and 80% of us apparently do!). If you're American, though, I guess this isn't an issue.
Ingredients to Die For: I haven't ordered from this site, mainly because it ate my shopping cart after an hour of choosing things, but they have a ton of interesting preservatives, emulsifiers, and organic ingredients, as well as some interesting cosmeceuticals.
From Nature with Love: They run the Natural Beauty Blog, and carry some interesting ingredients. I've never ordered from them.
Majestic Mountain Sage: I haven't ordered from them either, but they are well regarded. Their lip balm recipe is fantastic, and is a staple for most of us when we're making our first one. They also have a blog where they share information and formulas.
Please share all about your favourite suppliers in the comments and let us know what you think. When sharing, please make it less an ad and more about your experiences with the supplier. It's okay to share when you've had a negative experience, but please refrain from name calling or swearing.
There are a few comments over on the Canadian suppliers' list about US suppliers, to pop over there to take a peek at those.