I'm finally getting time to process all the things we saw and learned at In Cosmetics Global in Paris (April 2nd to 4th), and wow, did we experience a lot!
On Wednesday, April 3rd (day two) we took in a lab with Lucas Meyer to make a lovely, natural, cold process lotion using their brand new emulsifier, Lysofix (INCI: Glycerin (and) Glycine soja (Soybean) Seed Extract or Glycerin (and) Lysolecithin), then thickened it with Lecigel (INCI: Sodium Acrylates Copolymer (and) Lecithin).
Here's the formula we followed. (Please excuse the writing. Click on the PDF to get a clean copy of it.) They called this the Minimalist 2-in-1 cream.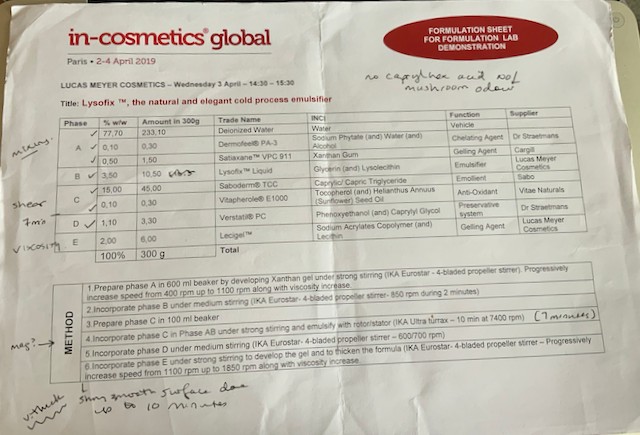 Click here for the PDF from the Lucas Meyer lab, Lysofix, the natural and elegant cold process emulsifier
In the first phase – Phase A – we combined water, the chelator at 0.1% – Dermofeel® PA-3 (INCI: Sodium phytate, water, alcohol) – and xanthan gum at 0.5%. We put all of this into a beaker, then stirred it with the propeller stirrer, increasing the speed as the xanthan gum became thicker.
Phase B was all about the Lysofix and caprylic/capric triglycerides, which we added to phase A as the propeller blade mixed it in.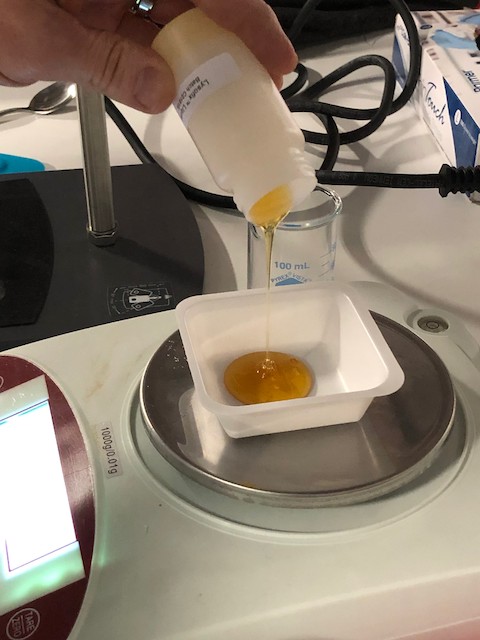 Lysofix (INCI: Glycerin (and) Glycine soja (Soybean) Seed Extract or Glycerin (and) Lysolecithin) is a very thick, honey like liquid that took absolutely forever to pour into the tiny boat, then another forever to pour it into the mixing vessel. If I were using this in my workshop, I'd definitely warm it up to make it easier to pour!
This oil-in-water emulsifier is COSMOS approved and comes as a powder or liquid. It can be used hot or cold process emulsions, and can make very thin, sprayable lotions. The skin feel is awesome, non-greasy, silky, with good play time, and it's not sticky, despite the lecithin, which can get a bit tacky at times. (Wearing pink and green together? You're not a Maybelline mascara bottle, Lysofix!)
Credit to Jenna for asking that question!
They noted it was compatible with silicones, pigments, mineral and chemical fillers. It can be used as a cold process emulsifier that doesn't increase viscosity, which means we can make sprayable emulsions with them! Woo!
The suggested usage range for Lysofix liquid is 1% to 5%. They suggest that it's used at 3% to 5% as the only emulsifier; 1% to 3% as a co-emulsifier. It has an optimal pH range of 4 to 8. 3% would emulsify 20% oils; 4%, 30% oils; and 5%, 40% oils. It has an HLB of 14.9, which is in the water soluble range.
Add the Lysofix liquid to the water phase, hot or cold, then add the oil phase while mixing to create an emulsion.
When formulating with this emulsifier, always include 0.1% chelating ingredient – EDTA is a good choice, but we used Dermofeel® PA-3 (INCI: Sodium phytate, water, and alcohol) at 0.1% in the water phase – and an anti-oxidant, such as Vitamin E T-50 mixed tocopherols at 0.1% or so.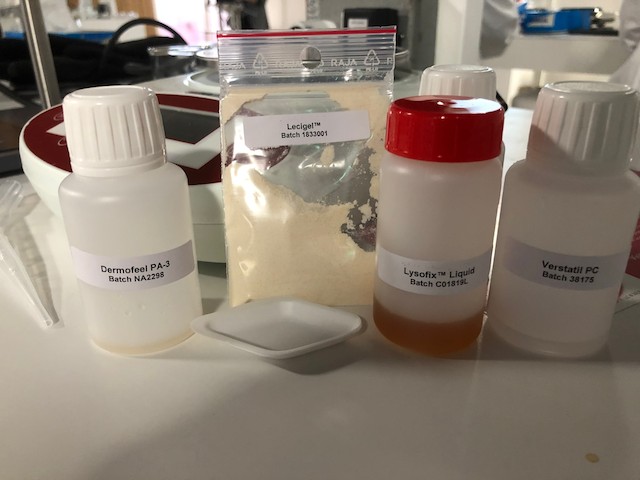 In the lab, they gave out pre-measured bottles of the ingredients as if we would only need precisely 60 grams, not taking into consideration that some might stick to the sides or refuse to pour. Raymond spent I don't know how long scraping the sides to get exactly the right amount.
As you can see, the lotion we created was thin, but emollient, with great play time, slip, glide, and spreadability. But this was only stage one of the great moisturizer lab!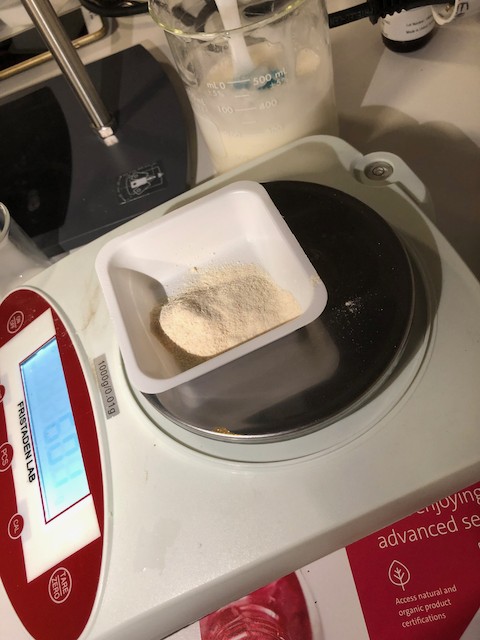 As the final step, we added Lecigel, a rheology modifier again based on lecithin that will increase the lotion's viscosity. (INCI: Sodium Acrylates Copolymer (and) Lecithin) It has an interesting cooling effect on skin – they say it lowers the temperature of your skin for up to 20 minutes – and reduces transepidermal water loss while increasing hydration.
It can be used as the only emulsifier to create a gel type cream, as well as being used in hot or cold process emulsions with other emulsifiers. Add it into the hot or cold oil or water phase, or add it after the emulsion has formed using shear, like an immersion or stick blender, to ensure it thickens properly.
"Especially adapted for the formulation of gel-creams, it provides the typical "phospholipid touch" with a cool, soft and non-greasy skin feel." Nanette Vaughn of NV&O and I were talking about our love of phospholipids in these labs, and it really does have a cooling sensation, which was lovely.
It had what's called a "quick break effect", which was a huge trend we noticed at In Cosmetics. (More about this shortly…)
When formulating with this ingredient, we don't want to use a lot of electrolytes with it as it can thin it out thanks to the sodium acrylate, which means it doesn't work with foamy, bubbly, lathery surfactants, but it handles alcohol very well, and works with a pH range of 4 to 8.
I think this might be my favourite feature of this ingredient, "Triggers positive emotions and provides moments of happiness upon application." That's a big promise there, Lucas Meyer!
The suggested usage is 0.5% to 2% as the "emulsifier for gel creams" or "gelling agent for aqueous gels"; 0.5% and up as a viscosity adjuster; and 0.1% and up as an emulsion stabilizer.
You can see the change that 2% Lecigel made with the lotion! It was very thick, with a shiny smooth surface. I thought it had very good play time and was easily spreadable, while being slippery and thin when it went on my skin. Again, it's not tacky or sticky at all.
As a note, in the video you can see Timea Racz of Formula Botanica showing us her lotion. We had a chance to work with her and one of the students – I'm sorry, I can't remember her name – during the lab. (Timi, email me and I'll get the pictures to you!)
Another note, I don't know where to buy either of these in North America yet. When I find out, I'll update this post with that information. I do have some of both of these ingredients in my workshop, and I will share more with you as I experiment more.
In the meantime, here are a few formulas from the company that might interest you.
Click here for formulations using Lecigel.
Magic Cream-to-Water (Lecigel)
OG Exfoliating gel (Lecigel)
Simply light cream (Lecigel)
Click here for formulas using Lysofix.
Minimalist serum (Lysofix)
Rich & silky lotion (Lysofix)