For this month, all the proceeds from the sales of all my e-books in the month of September will be going to Melts 4 Mutts Senior Dog Rescue (Facebook link). The sales from these e-books normally go to our youth programs, Rated T for Teen, but when we learned more about the amazing men who run this dog rescue program, we knew we had to support them however we could. Here's the story of this rescue and some of the pups, like Autumn and Spencer up there…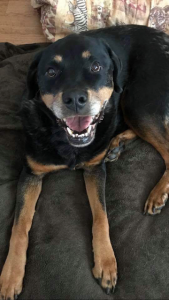 My name is Mike and I am the founder of Melts 4 Mutts Senior Dog Rescue. Together with my partner Grant we run a senior dog rescue based on beautiful Vancouver Island, British Columbia on the West Coast of Canada. We rescue senior dogs aged 8 years and older that have been abandoned, abused or neglected, pay for all of their medical expenses and give them a safe loving home for the rest of their days.
We provide much needed veterinary care for every Senior Dog we take into our rescue and they get anything they need regardless of the cost so our bills pile up very quickly and we rely heavily on the sales of our products to offset these costs. The dogs we take in have typically been neglected medically and most of them need very expensive dental surgeries as well as expensive medications for various conditions like diabetes, Cushing's, arthritis, ear infections, eye infections and cancer. Our vet bills are insurmountable and can be in excess of $5000 per month.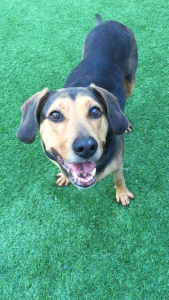 We receive no funding so all of the money for the care of our senior dogs comes out of our pockets and from the money we raise selling our Scented Wax Melts, Candles and Bath & Body products. We get out to as many local markets as we can and the community response has been amazing. We will be shipping worldwide this year which is a very exciting step for us. 100% of the money raised from the sale of our products goes directly to the senior puppies. Every time you purchase a product from us you are helping the senior dogs in our care. Rescuing senior dogs is my passion and I will continue to take them in and care for them until my last day on earth.
Your support of our rescue efforts is so much appreciated we love you guys.
Mike, Grant and the Senior Puppies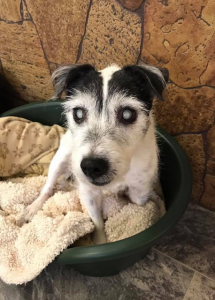 Our newest addition is another blind Jack Russell this is 10 year old Bump he was picked up by Animal Control wandering the streets and no one came for him so they called me and we of course went and pulled him from the pound. They called him Bump because he walks around bumping into everything and the name stuck. He is such an amazing boy. Now we have 2 blind Jacks. He is a dollface. My boyfriend said if I bring one more home we are going to need a farm…so now I am looking for a farm. ?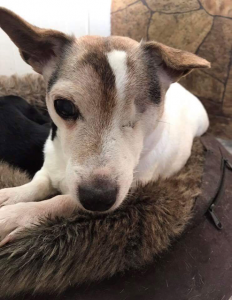 This is 17 year old Hailey. She still has one eye but is completely blind. Her family did not want her anymore they said she was "old and blind" so we took her in and she is the most amazing girl.
Thank you, Mike and Grant, for having such huge hearts and looking after these lovely pups!
Learn more about this program by visiting their Facebook page, or their Instagram page under melts4muttsseniordogrescue.