Sorry, I'm so bogged down with finishing up the e-zine for the month and working on my university course, I've run out of time to finish up the Formulating Friday formula for this week. I hope to have it to you for Monday or Tuesday. Thanks for your patience – it's been a hectic two weeks!
It's that time of year again – PUMPKIN SPICE EVERYTHING, MONKEY FEATHERS! That's right! It's the time for cinnamon, cloves, and all those other fabulous spices, which is the most wonderful time of the year, second only to egg nog season! Let's celebrate by making some products!
It's super quick and easy to modify a product to include a pumpkin spice type fragrance oil and a titch of orange colour in any formula, substitute a little pumpkin seed oil or coffee butter for one of the emollients, or try a bit of both to create something really autumnal and spicy.
My favourite version of this fragrance oil is vanilla pumpkin marshmallow from Windy Point Soap Making Supplies.* It has all the spice-y goodness with an amazing deep vanilla note that lasts forever on your skin in a good way! Oh, and I love this one – pumpkin spice chai fragrance oil from Voyageur Soap & Candle – as it has that creamy, kinda tea-like aroma!
$10 subscribers, don't forget we have monthly coupons for suppliers, including ones for Windy Point Soap Making Supplies and Voyageur Soap & Candle this month if you wanted to get some of this amazing fragrance!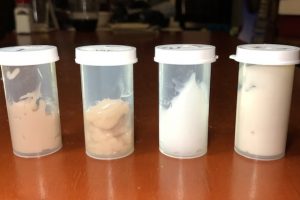 Please make a note that pumpkin spice of all sorts can cause your product to experience a bit of colour morphing over time, especially if they have some vanilla content. These are all the same formulas – a quick, cold process hand & body lotion using Rheosol AVH from my July 2019 e-book, 10 minute lotions – with different fragrance oils.
From the left, one is vanilla pumpkin marshmallow FO, which you can see has turned a dark tan/brown colour. Two is pumpkin patch FO from Windy Point. Three is Meyer Lemon fragrance oil from Windy Point. Four is pumpkin spice chai, which has turned a light brown/tan colour. They all smell amazing more than 18 months later, and I don't mind the colour at all, but it's something to keep in mind if you had a specific hue you wanted in a product.
When it comes to colours for lotions, I like to use LabColours liquid colours or the new stained glass ones. These are water soluble, and a few drops create a light colour in any lotion. Try using sunflower yellow, orange, peach, or even a drop of red to get you in that fall spirit.
For both anhydrous and water-containing formulas, add a little mica, which will give you a little shine. Don't use much – try a small white scoop (1/32 tsp) for a 100 gram batch to start, then add a bit more, mix, to see what you think. Micas can remain on the skin and offer a light shine, so it's not a bad thing if you use a bit more than a titch, but don't want someone to sparkle under their fluorescent lights of the office.
For the coffee butters pictured above, I used gingerbread mica from Windy Point Soap Making Supplies. I've made versions with cappuccino mica from Voyageur Soap & Candle that looked really nice.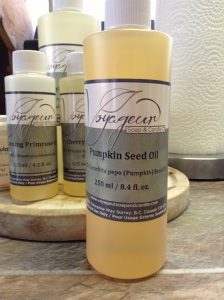 Please don't do something like make a pumpkin glycerite to add as part of the water phase of something. If you really want to use something from a pumpkin, pumpkin seed oil is a lovely oil, light, slightly greasy, quite emollient – one of my favourites I always keep in my workshop.
Let's make some pumpkin spiced stuff! 
If you wanted to make a pumpkin spice latte type product, check out these formulas I made using coffee butter!
Happy National Coffee Day! Celebrate with coffee butter!
Happy National Coffee Day! Celebrate with a whipped vanilla latte coffee butter!
Mmm…pumpkin spice latte lotion!
Pumpkin spice latte lotion with Penstia powder
If you don't have coffee butter, you could use a titch of coffee essential oil – I bought mine at Voyageur Soap & Candle – and my daughter assures me it smells amazing. (I really hate coffee quite a lot, so she's my go-to for these kinds of things.)
Or find a coffee scented fragrance oil. I've used all kinds, like cappuccino fragrance oil (Voyageur) and fresh brewed coffee (Windy Point), which I've been told were very nice.
Don't forget about coffee flavoured lip balm oils! You can find all kinds – coffee sweetened flavour oil and vanilla latte sweetened flavour oil (Windy Point) – to add to a nice lip balm!
But you don't need coffee to make something awesome and pumpkin spice-y! Find a formula you love and add the fragrance oil for some autumn awesomeness! If you wanted to make a pumpkin spice latte body butter, use coffee butter in this week's Newbie Tuesday's body butter and add some of the amazing fragrance at the end in the cool down phase!
Or make a hand lotion with pumpkin seed oil and coffee butter, like this one – Formulating Friday! Let's modify a hand & body lotion using Polawax! (Part 3) – or this one – Newbie Tuesday: Creating a hand & body lotion using Polawax, e-wax NF, Natragem EW, or Phytomulse (part two) – or this one – Ritamulse SCG hand lotion #2.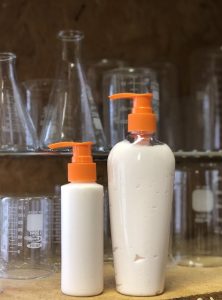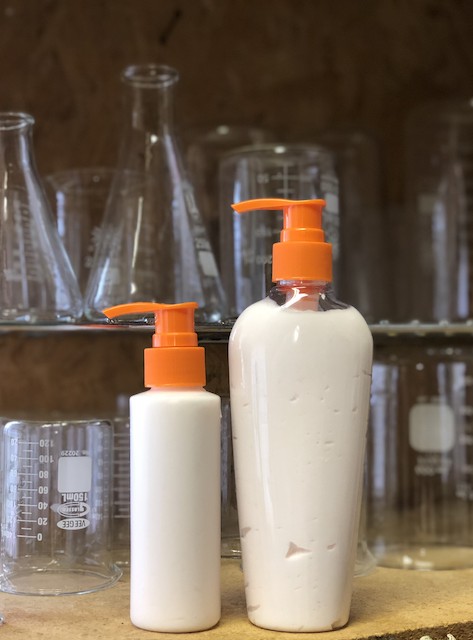 I think this is my favourite hand lotion this year – this 10 minute naturally compliant lotion made during our first Zoom workshop in April, which you can find as a standalone post here – and you can easily replace the two LuxGlide/LexFeel esters or the babassu oil for pumpkin seed oil or coffee butter, then add a fragrance oil you love. I used a few drops of orange stained glass liquid colour to make it look slightly orange, and packaged them in these bottles with an orange pump bottle.
Sadly, Windy Point has run out of these coloured pump bottles…
This 10 minute lotion: Strawberry & honey yogurt parfait with Viscoptima SE could easily be a pumpkin spice & honey latte with ViscOptima SE if you alter the fragrance oil. It already contains pumpkin seed oil, but it'd be super easy to switch out 5% of the oil phase with coffee butter!
Or turn this 10 minute strawberry smoothie lotion with ViscOptima SE into a pumpkin spice smoothie by altering the fragrance oil.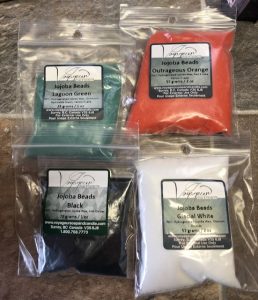 Make an awesome pumpkin spiced latte emulsified scrub with this formula – emulsified scrub with pumpkin seed oil – with 10% coffee butter as part of the 56% oil phase (so you'd have 10% coffee butter and 46% liquid oils) if you want that latte kinda thing going on.
Or make a pumpkin seed & orange oil degreasing foaming bath butter scrub with some orange and black jojoba beads and a spicy fragrance oil!
Or make an emulsified sugar scrub bar with butters and pumpkin seed oil!
Let's make some candles!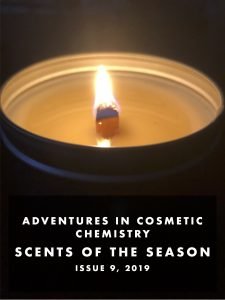 If you wanted to make some pumpkin spice candles to fill your home with this amazing aroma, check out these posts for making soy candles: Let's make some soy candles! and You made candles! A few things to consider…
Make sure the fragrance oil you want to use can be used with candles by checking with your supplier or checking the flashpoint of the fragrance. You want to be higher than the melting point of the candle.
I also have an e-book perfect for this time of year, Scents of the Season, in which we make all kinds of awesome wax tarts and candles, some using those gorgeous wooden wicks that crackle and sound like a camp fire in your house!
Or maybe drink something? 
If you aren't a coffee drinker, pumpkin spice tea is great! You can get some great teas – I love this pumpkin harvest spice honeybush from my local shop, Aromatica and we have this one on the way from Murchie's, pumpkin spice cheesecake rooibos – or make your own.
I like to use a base of vanilla black tea of some sort, then I add 1/8 tsp to 1/4 tsp pumpkin spice blend into a 3-ish cup tea pot to make a vanilla-y tea that tastes amazing! (It works out to about 1/8 tsp for each of our large tea cups.)
I also do this with egg nog spices. I make up a blend of equal parts cinnamon, cloves, nutmeg, and allspice and add up to 1/4 tsp for a 3-ish cup tea pot. It's amazing!
And finally, if you don't mind a lot of swears and love a lot of awesome music and shouting, this video on PSL season on John Oliver's Last Week Tonight is epic!!!
*When you see me sharing links to suppliers, please note that I'm doing it to help you find things or because I love that to which I'm linking. It's never an ad, sponsored content, or an affiliate link – I don't engage in those practices because you subscribe to the blog and I don't have to sell your attention and eye balls like that. Click here to find out more about my relationships with suppliers.