When I was four, my local library published a poem I wrote about elephants, and it was then that I decided I would be a writer. I earned a Bachelor of General Studies, minoring in English and Canadian Studies, with the hopes of being a teacher, but they weren't hiring during the recession, so I became an income assistance worker, then a social worker, then a family counsellor. An epic bath bomb fail during a youth craft group led me to find the (Soap) Dish forum, where I learned we could make lotions, shampoos, conditioners, and everything else, which sparked my obsession with cosmetic chemistry, which brought me back to my first love, writing, along with my passion for teaching.
Today marks what I think of as the 11th anniversary of the blog. I started it in 2008 to share handouts from my youth groups, but decided on February 28, 2009, to celebrate National Craft Month by sharing my most favouritest ever craft – creating bath & body products. I had planned to do this for a month, but I'd had so much fun and such a great reaction, I kept writing. And here we are at post 3,994.
I had hoped to get to 4,000 for today, but life had other plans.
I'm more excited writing the blog now because the more I learn, the more there is to learn! Every new thing leads to another new thing, which leads to another new thing! I can spend days falling down rabbit holes, learning everything I can about a subject until I feel I finally understand it.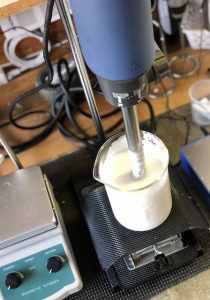 Thanks to your monthly subscriptions, I can afford to get all kinds of wild and wacky ingredients as well as new equipment, like magnetic stirrers, immersion blenders, pH meters, and even this kick-ass homogenizer! I can create formulas to share with you that use not-so-common ingredients or those I saw at conferences, like In Cosmetics Global last year. And we can afford to pay for MailChimp to notify you of new posts or Disqus, our commenting system.
And we don't have to rely on sponsored content, ads, pop-ups, or affiliate links to stay afloat, which is so nice!
There're so many things I want to share with you – new ingredients, formulas, equipment, articles I found and so much more – most days, I feel my brain is packed to overflowing. Although other days, I'm filled with analysis paralysis, unable to pick from all the potential things I could write or create (which is a problem you want to have).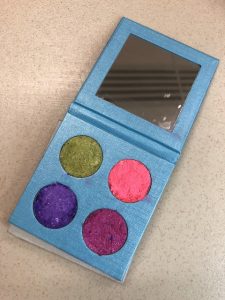 Thank you for supporting our youth programs, Rated T for Teen! Every penny from the bigger e-books – Lotion Making 101, Back to Basics, Hair Care Products, Formulating Facial Products, and Formulation Lotions & Creams – goes to support this program Raymond and I have been running since 2005.
We offer these free weekly programs for youth grades 7 and up in our community, offering a weekly craft group, monthly board & card games night, and monthly video game club, as well as a number of role play game groups. If you've purchased any of these e-books from me or anywhere else, you've supported these programs, and we thank you so much!
*For two months in 2018, the funds went to Melts 4 Mutts Senior Dog Rescue.
I know I'm the luckiest person in the world to be able to wake up every morning and do something I love so much and have the privilege of sharing it with you. Thank you so much for all your support for the blog and our family. We couldn't do this without out, and we are so grateful you've chosen to join us on this journey to learn everything we can about making cosmetics!