Hi, everyone. Hope this final day of 2022 finds you well.
This has been a hard year for me. I've spent a lot of this year dealing with low grade lymphoma, a type of lymphatic cancer that has had me travelling quite a bit to get all kinds of blood tests, ultrasounds, biopsies, surgery, CT scan, PET scan, bone marrow test, even more blood tests, and appointments with all kinds of doctors and clinics and agencies, all of which require loads of road trips out of town, including an overnight stay in Whistler. It's all been incredibly exhausting – physically and mentally – as I've been trying to process it all on top of the other limitations I have.
The good news is that it hasn't spread to my bone marrow or blood, so I don't need chemotherapy, so yay for that.
The not-so-great news is that there's still some cancer left in my jaw/neck area, so I'll be starting radiation therapy soon, which I understand will leave me kinda fatigued and may have all kinds of other side effects. This'll require travelling out of town five days a week for a week or two or five – not sure yet – which I fear will just add to the exhaustion I'm already feeling.
I've been working all through this, but some of the tests have made the pain in my arms a little worse because I have to hold them this way or that way or I had to forego some tablets, so I'm still struggling with typing while learning to be more comfortable with dictating.
As a note, I'm in Canada, so all of these medical services are covered under our universal healthcare system, which is a big relief.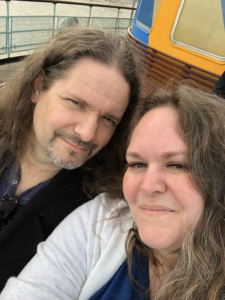 What does this mean for the site? I don't think it'll have a massive impact as I've been dealing with this since late May and I've been able to keep up with regular posting with the exception of a few e-books this year that I just couldn't finish.*
*Instead, I've offered coupons so you can get the e-book of your choice in the shop. Please click here for the December 2022 coupon of $23 if you're a $10 subscriber.
Throughout all of this I've found writing, formulating, researching, learning new things, and taking online courses have helped me stay sane and feel creative, so you'll continue to see the results of all of that here on the site.
I have some series I've been working on for ages that I hope to share soon, like the triglycerides one and the lamellar gel networks one, but there are new ones I've been working on along with what I hope will be a Newbie Tuesday series starting soon! 
It does mean you may see some more giant posts – like this one, Creating a cranberry, cornsilk & carrot foaming hand & facial cleanser! (Long post, four parts in one) that's the equivalent of at least four posts – because it's a lot of work dividing a massive post up into smaller ones and linking each one.
And it means that Raymond is taking on more work by doing the photographs and links and cleaning up posts as well as all the other tech support stuff he's doing now, so please have a bit of patience if you've written to him as our lives are kinda chaotic.
Because I can't teach in person yet, I always live in hope that I can do some Zoom workshops when I'm feeling better.
Thank you so much for being with us this year, supporting the site with your subscription and supporting us with your kindness.