Before I start, I want to point out that all of the photos I have used in this post are presumably copyright of Caroline Calloway from her Instagram, and I'm using them to illustrate points in my critique of her product. None of the links in this post are ads or affiliate links as this site is ad free thanks to you, my wonderful monthly subscribers. This isn't a sponsored post or anything like that. This is my rage and frustration in blog post form, and I thought this was a great way to illustrate the things we need to think about and do when formulating products for sale. I'm not a "hater" looking to bash anyone or ruin someone's dreams of being a skin care formulator – just critiquing a terrible product with some biographical information about the creator to offer context and explain why she's getting so much attention for this fascinating product, "Snake Oil".
If you follow influencers online, you may have heard of Caroline Calloway (@carolinecalloway) on Instagram. She originally became famous for posting about her fairytale life as an American attending the English university, Cambridge, and for the numerous "scams" she's been perpetrating on her fans.
I don't usually follow influencers – except for adorable dogs, who make me want to buy all the things! – but I was intrigued when I saw her referred to as a one-woman Fyre Festival as I'm obsessed with that failed music festival for some inexplicable reason.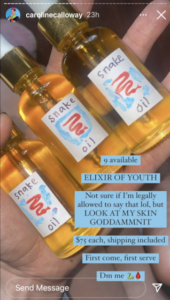 I normally wouldn't write about someone like this on this blog, but she's in my world now – Caroline's latest grift is to make an anhydrous facial and body oil she's calling "Snake Oil", advertised as an "Elixir of Youth", which will set you back a mere $75 for 1 ounce (30 ml or 2 tablespoons) or $250 for 4 ounces (120 ml or 1/2 cup), which has angered me beyond belief, and I'll share why with you in this post – and what she's doing is a great cautionary example of what not to do if you want to sell safe products in accordance with FDA or Health Canada laws, regulations, and guidelines.
Even more frustrating is that she's getting all this press for it as if this is a safe product to share from someone who understands how to formulate products! This is why I do not trust general media, like women's magazines, or non-cosmetic formulating influencers when they speak about hair, skin, and facial products – they aren't experts in cosmetic chemistry, and it seems like they often get things very very wrong.
Check out some of the attention Caroline Calloway received the very night she announced her "skin care line" on Instagram. I will grant you that some of this is very sarcastic and it's not all supportive, but it's all still attention for a product that she's selling for a ridiculous price the day she made it.
Refinery 29: We Have A Lot Of Questions About Caroline Calloway's $75 "Elixir Of Youth Potion"
Dazed Digital: CAROLINE CALLOWAY IS SELLING SNAKE OIL, A $75 HOMEMADE SKINCARE CURE-ALL
Daily Dot: Caroline Calloway is now selling 'Snake Oil' (yes, really)
The Independent: Caroline Calloway to launch homemade skincare 'potion' named 'Snake Oil'
Nylon: Everything you need to know about Caroline Calloway's newest skincare "scam"
Buzzfeed: Caroline Calloway — The "Scammer" Influencer — Has Officially Started Selling "Snake Oil" Skincare Products For Up To $250
She claims she's been making batches of this product every six months for years, and it was time that she should finally share this anhydrous facial and body oil that gives her the skin of an 18 year old TikToker at the horrifically ripe old age* of 29 1/2 years old because she wants you to look as amazing as she does.
*Caroline is obsessed with her age, claiming regularly that she's mistaken for a teenager. She called a woman in her twenties who was 6 months older than her "middle aged", so this is a recurring theme in her Instagram posts and for this product. This is a huge part of how she's marketing this oil on her Instagram account.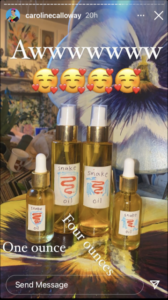 She's selling 1 ounce (30 ml or 30 grams, not sure) bottles for $75 and 4 ounce (120 ml or 120 grams, not sure) bottles for $250. She's been showing them off with a hand drawn sticker that says "Snake Oil" and originally claimed she didn't have to share the ingredient list as it was a trade secret, which simply isn't true under the USA's FDA regulations. She has since shared the ingredient list, which we'll see in a minute.
I need to stop here to say that there are no cosmetics that can justify this price based only on ingredients or packaging. (Having said this, companies are entitled to charge whatever they want without having to justify it.) You'll see in this post that you can make an anhydrous serum like this for a few dollars, including the bottles, buying small quantities without discounts from our suppliers.
In this post, we'll take a look at all the things she should be considered when "launching" a new product, like the guidelines around ingredient lists, good manufacturing processes, claims, and other important things we should know if we're going commercial.
But first, who is Caroline Calloway?
As I mentioned at the start, she's an influencer on Instagram who graduated from Cambridge University with an art history degree, and she started on Instagram by writing about her life as an American in England, sharing her fairy tale lifestyle of galas and balls and going to castles – you know, the things you do when you're at university, right?
She continued to write about those experiences, even receiving a $500,000 book contract to write about her wonderful, amazing time at Cambridge, but she informed the publisher she couldn't write it after receiving an advance of more than $100,000 because the story was about a boy-crazy girl and she wasn't that person any more.
She's embraced the label "scammer" and regularly talks about when she "went viral as a scam" quite a number of times, to the point where she's kinda known for being fairly dodgy when it comes to accepting money from the public for art and services, then failing to deliver. She is most assuredly not an experienced formulator of lovely skin, hair, and face products and has never mentioned her background in chemistry or cosmetic chemistry, although she mentions constantly that she has a degree in art history from Cambridge. (Did I mention she went to Cambridge? If I didn't, just wait, she'll tell you…)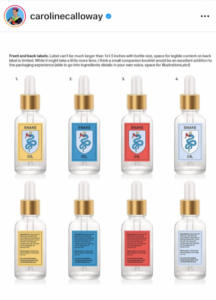 This is why she's called her product "Snake Oil", because she's a self-described "scammer".
In 2019, she offered workshops to spend time with her eating salad and making flower crowns while talking about creativity, most of which didn't happen because she didn't book venues.
She's been pre-selling a book called Scammer that had a shipping date of Spring 2020, claiming then she'd sent it to the printers, but they were closed to due to the pandemic (they were not). She continues to accept pre-orders for this book and continues to promote it, which as of July 8, 2021, still hasn't been written.
She has a Patreon on which she's promised eight essays a month, and has delivered two in total. (She also has a tier for "Close Friends" material on Instagram, but she never posts there.) She has an Only Fans with a monthly subscription rate of $50 that's been inactivated quite a few times for not posting material for more than 30 days.
She does a lot of selling of her crafts on line for quite outrageous prices – like a watercolour portraits that cost $250; copies of the Artist Matisse's Dreamer made from cut up cardstock and paper for $175; copies of Matisse's paintings of goldfish, which I think she listed for $1,0000 (mistake intentional); other writers' books with her signature and a nice note inside for $25, and so much more – but she's even more well known for not sending these items out, as evidenced by the endless stream of people asking about their items or requesting refunds in her comments. .
If you'd like to learn more about her workshops, check out this Twitter thread from Kayleigh Donaldson (the 28 year old woman she called "middle aged") and check out these articles…
I Scammed Influencer Caroline Calloway at Her Event, The Scam
I attended Instagram influencer Caroline Calloway's 5-hour, $165 creativity workshop that people have called a 'scam.' Here's what it was like inside
Caroline Calloway's "Creativity Workshop" Taught Me Nothing About Creativity, But a Lot About Scamming
And if you'd like to learn more about her in general, check out these articles…
There's a great article about her from The Cut by her ghostwriter and former friend if you want to learn more. I was Caroline Calloway by Natalie Beach
This is another good one summing up a lot of her "scamming" – Caroline Calloway, her "one-woman Fyre Fest," and her ex-best friend Natalie, explained
And definitely check out the book, Hype, by Gabrielle Bluestone if you want to read more about Caroline Calloway and scams like the Fyre Festival.
You don't have to read all of these to understand or care about this post, but it's an interesting rabbit hole down which to dive for a few hours if you've got time on a lazy Sunday afternoon or in the evening hours when you have a bit of time for yourself. Again, my goal is not to bash someone, just recounting her history of engaging in artistic endeavours, then not following through.
Given her history of over-promising and rarely-if-ever-delivering, you can imagine the response from the snarking community, her readers, and the media when she made this announcement about her "skin care line", starting with this anhydrous face and body oil, Snake Oil. Yep, it went as well as can be expected. Let's take a look at this product a little closer…
Let's look at the label!
There are a few things to look for on a label:
One, the ingredient list with INCI names;
Two, information on the manufacturer with their contact information;
Three, the accurate weight or volume of the product; and
Four, how to use the product (not required, but a good idea).
Quick note, if you want to learn more about labelling for the States (and most applies to Canada), definitely check out this series from Marie Gale, the labelling guru in the US – Label Basics.
First, let's look at the ingredient list!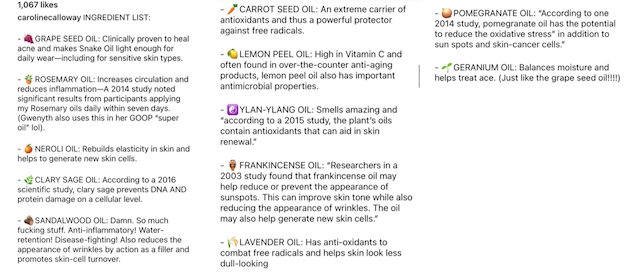 Let's take a look at the ingredient list she has for this product. (From this post if you need it larger) Note that by law, ingredient lists must be written with INCI names in the order of how much is used in a product. In the US, when you get to the part of the list where things are being used at 1% or lower, it can be in any order; in Canada, you must still list it in order of usage. In other words, the things at the start are what's used the most, the things at the end are what's used the least.
Learn more about INCI names in this post! 
What's on this post from Instagram and her label on the bottle?
Grapeseed oil (carrier oil) – 3 month life span, can be used up to 100% on skin
Neroli oil (essential oil)
Clary sage oil (essential oil)
Sandalwood oil (essential oil)
Carrot seed oil (essential oil)
Lemon peel oil (essential oil)
Ylang-ylang oil (essential oil)
Frankincense oil (essential oil)
Pomegranate oil – (carrier oil) – 6 month life span, can be used at up to 100% on skin, but generally used at 10%
Geranium oil (essential oil)
"Snake Oil" is an anhydrous product – one that doesn't contain water – that uses grapeseed oil with a bit of pomegranate oil as the base with a ton of essential oils that would be used at tiny amounts – I wouldn't use more than 0.2% of all those essential oils combined in a product like this because the smell would be overwhelming right under your nose. And she's charging $75 US for it? This better be pretty good snake oil!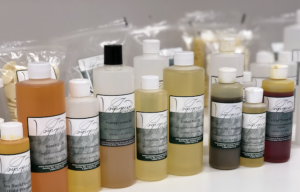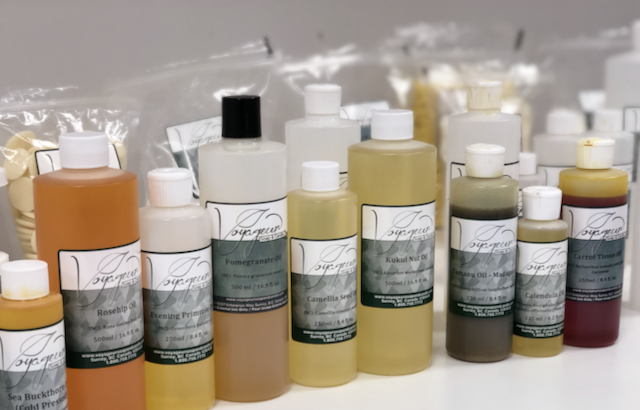 Learn more about all these carrier oils in my enormous emollients section of the blog, always found under "ingredients" in the menu bar.
Learn more about essential oils in my huge essential oils section of the blog, always found under "ingredients" in the menu bar. 
As a note, it appears she's taken the essential oils for this product from this article from Healthline – Oils for wrinkles? 20 essential and carrier oils to add to your routine. Caroline didn't include rose – which can go for $65 for 5 ml – or helichrysum. This article also suggests pomegranate oil and grapeseed oil along with apricot oil, almond oil, avocado oil, argan oil, jojoba oil, and Vitamin E.
She also could have raided the aging section of this post, How to make a custom facial oil with essential oils, as they list all her essential oils there.
If we take this ingredient list as being in order – which is highly dubious as best – then she's using 1% or less pomegranate oil because it's buried deep in the list, and even the most inexperienced homecrafter like Caroline Calloway would know that she shouldn't be using more than 1% each of every essential oil that comes before it…right? (Oh please tell me she knows that!)
Grapeseed oil has a short shelf life, as short as three months, and it requires an anti-oxidant. I would normally use 0.05% to 0.1% mixed tocopherols T-50 (Vitamin E), but rosemary essential oil can serve that role as well. So I'm going to give her credit for at least having an anti-oxidant. Being anhydrous, it doesn't require a preservative.
So far, her ingredient list is definitely not compliant as it needs to be in the proper order with INCI names listed. This is what it should look like if the label is done within Canadian and American standards. (I don't think all of that will fit on her hastily designed label!) Learn more about INCI names in this post! 
Ingredients: Vitis vinifera (Grape) Seed Oil, Rosmarinus Officinalis (Rosemary) Oil, Citrus Aurantium (Neroli) Oil, Salvia Sclarea (Clary Sage) Oil, Santalum Album (Sandalwood) Extract, Daucus Carota (Carrot) Seed Oil, Citrus medica limonum (Lemon) Peel Oil, Cananga Odorata (Ylang Ylang) Oil, Frankincense (Boswellia Carteri) Gum Oil, Lavandula Angustifolia (Lavender) Oil, Punica granatum (Pomegranate) Seed Oil, Pelargonium Graveolens (Geranium) Oil
The essential oil names are from From Nature With Love; the oils from Voyageur Soap & Candle Supplies.
As an aside, there's a very good theory that her first bottles were a mixture of some products she had on her dressing table or that she's just mixing up food-grade grapeseed oil with products from Glossier and such, and it's a sound concept. I'm working from the theory that she's making this from scratch because it makes for a more interesting post.
I'm really concerned about her use of essential oils as they all have "safe as used" guidelines and I can't imagine she's looked that up or read anything about it. Some of these can be phototoxic or cause issues if you expose yourself to sunlight – neroli and lemon being the two main ones – and I'm sure there are other concerns that are currently making the aromatherapists reading this cringe!
Two, has she listed the manufacturer on the label for "Snake Oil"?
As per section 11 of the FDA reference guide, cosmetic labels must "identify the name and place of business of the manufacturer, packer, or distributor…this includes the street address, city, state, and ZIP code…" The label just isn't large enough to contain this information, so let's hope she's including it in another way.
She has listed her website, but that's not enough under FDA or Health Canada regulations.
Three, has she listed the contents by volume or weight?
Yep, she has it here, 1 oz – 30 ml. Woo hoo, way to go, it's even in metric!
Four, has she said how to use this? (Not legally required)
"How to use: Apply to your face! Your body! Your friends! Also good for cuticles, split ends and adding to a hot bath to feel like an Egyptian princess."
When applying anything to a friend's body, hair, or cuticles, please ensure you have their express verbal or written consent. Given all the issues with this product, it might be wise to have them sign a waiver to exempt you of any and all liability for any potential infections, rancid odours they can't remove even with extensive bathing, findings of cat hair, or other grossness that might occur when you or they use it.
Also, it's a terrible idea to spend $75 on something you pour into a bathtub. I'm all about treating yourself and all that, but that's one expensive bath!
Can you avoid having to share your ingredient 

list

 by calling "trade secrets"?
Initially, Caroline said she wouldn't be sharing her ingredient list because it's a "trade secret". Let's take a look at what the FDA says about that topic…
"FDA requires cosmetics to have an "ingredient declaration," a list of all the product's ingredients. FDA requires this labeling under the Fair Packaging and Labeling Act (FPLA). This law is intended to make sure consumers have information they can use to compare the value of different products and make informed choices." Then, "To request "trade secret" status for any other ingredient, a cosmetic company needs to follow a process detailed in the cosmetic regulations."
In the section, How to Request Trade Secret Status for a Cosmetic Ingredient, the FDA notes, "First, be aware that it's unlikely that FDA will grant your request. We've received only a handful of trade secret requests in the last 20 years and have granted such a request only once. But if you decide to proceed, here's how: You will need to start by submitting your cosmetic formulation or raw material composition statement to FDA's Voluntary Cosmetic Registration Program (VCRP) using Form FDA 2512 (Cosmetic Product Ingredient Statement)."
Let's stop here as it's blatantly obvious that Caroline Calloway hasn't engaged in this process, and, even if she had, it's unlikely that she would receive it.
How much would it cost to make this product?
I'm going to be using prices for a reasonable number of bottles – she's made about 120 – 1 ounce bottles of "Snake Oil" so far (3,600 ml or 3.6 litres) – so let's say she needs 144 bottles (12 dozen). She's using what looks to be a clear glass bottle with an eye dropper with a gold cap.
She has 10 essential oils in this blend, I hope she's not using more than about 0.2% total essential oils in this formula as these all have strong scents and combining them all will be quite pungent. I generally forego any fragrances of any sort in facial products, but I might add 0.1% every once in a while. I think 0.2% is a little more than I'd suggest, but some people like it strong, so let's go with that for this analysis.
For 3,600 grams she'd need 7.2 grams of all the essential oils combined, not much at all.
Let's say she's using equal parts of each essential oil in the product, so 10 essential oils at 0.02 grams each for a total of 0.2 grams in 100 grams of product. She'd need to have 0.72 grams of each essential oil for the 3,600 gram batch (7.6 grams / 10 essential oils = 0.76 grams of each for the entire batch.) I'll round this up to 1 gram for each one for pricing purposes.
I'm going to estimate she's using maximum 1% pomegranate oil based where it's located on on her "ingredient list". So for 3,600 grams, we'd need 36 grams of pomegranate oil for this youth elixir.
So the formula would look a little like this. (To make this into a formula, substitute the % symbol with the word grams, and you have 100 grams of "Snake Oil", which is quite a lot. Read more about converting formulas here!)
POTENTIAL DUPLICATION OF CAROLINE CALLOWAY'S "SNAKE OIL" ANHYDROUS FACE & BODY OIL
98.8% grapeseed oil
1% pomegranate oil
0.2% essential oil blend – blend of 10 essential oils used at 0.02% each
Weigh into a container, mix with a small mixer or spoon for a minute or so, pour into bottles. Clean the bottle with some alcohol, apply the label, you're $75 richer for every 1 ounce (30 ml) bottle. Rejoice!
If you want to make your own anhydrous body or facial oils, there are so many on this blog! I'll link to them at the bottom of the post!
For this cost analysis, I'm assuming that 1 gram of ingredients = 1 millilitre of ingredients. This isn't accurate as oils generally measure 0.9 grams = 1 ml, so a 30 ml or 1 ounce (liquid) bottle would contain around 27 grams of oils, but you'll see that small difference doesn't have a massive impact on cost and will take me forever to do the math, so let's just say for now 1 gram = 1 ml for all ingredients.
All of these prices are in Canadian – unless otherwise indicated – and don't include taxes, shipping, duty, or discounts. I'm "buying" the smallest amount we need. If you buy larger quantities, it would normally be a quite a bit cheaper. I'm pretty sure Caroline is buying the ingredients from Amazon, Etsy, or eBay rather than our normal suppliers, which would cost her more, especially for packaging.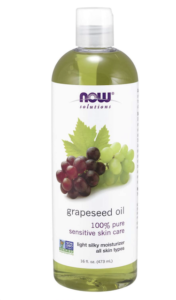 It appears she's purchased the grapeseed oil from amazon.ca – NOW Solutions, Grapeseed Oil, Skin Care for Sensitive Skin, Light Silky Moisturizer for All Skin Types, 16-Ounce for $11.28 US or $12.50
I'm not sure where she found the essential oils yet. I'm guessing Amazon as she bought everything else there.
And I think this is where she found the bottles: 24 Pcs, 1 oz Dropper Bottles (30ml) with 6 Funnels & 1 Long Dropper – Clear Glass Bottles for Essential Oils with Eye Droppers – Tincture Bottles, Leak Proof Travel Bottles for Liquids, Golden Cap. They come with funnels, which she has been showing off a lot. They cost $16.99 for 24 before shipping and taxes and such for a total of 71¢ per bottle. I went with $1.02 a bottle, so her product could be 31¢ cheaper than my estimate.
I'm using Voyageur Soap & Candle Supplies as my Canadian supplier. If I can't find it there, I've been using Amazon US. If an ingredient is really expensive – like Sandalwood (5 ml = $72) – i'm using the dilution at 10% in jojoba, which I'll indicate.
The final column is how much of each ingredient you'd find in a 1 fluid ounce/30 ml bottle of "Snake Oil". I have made more than 30 ml, but it made the math much easier.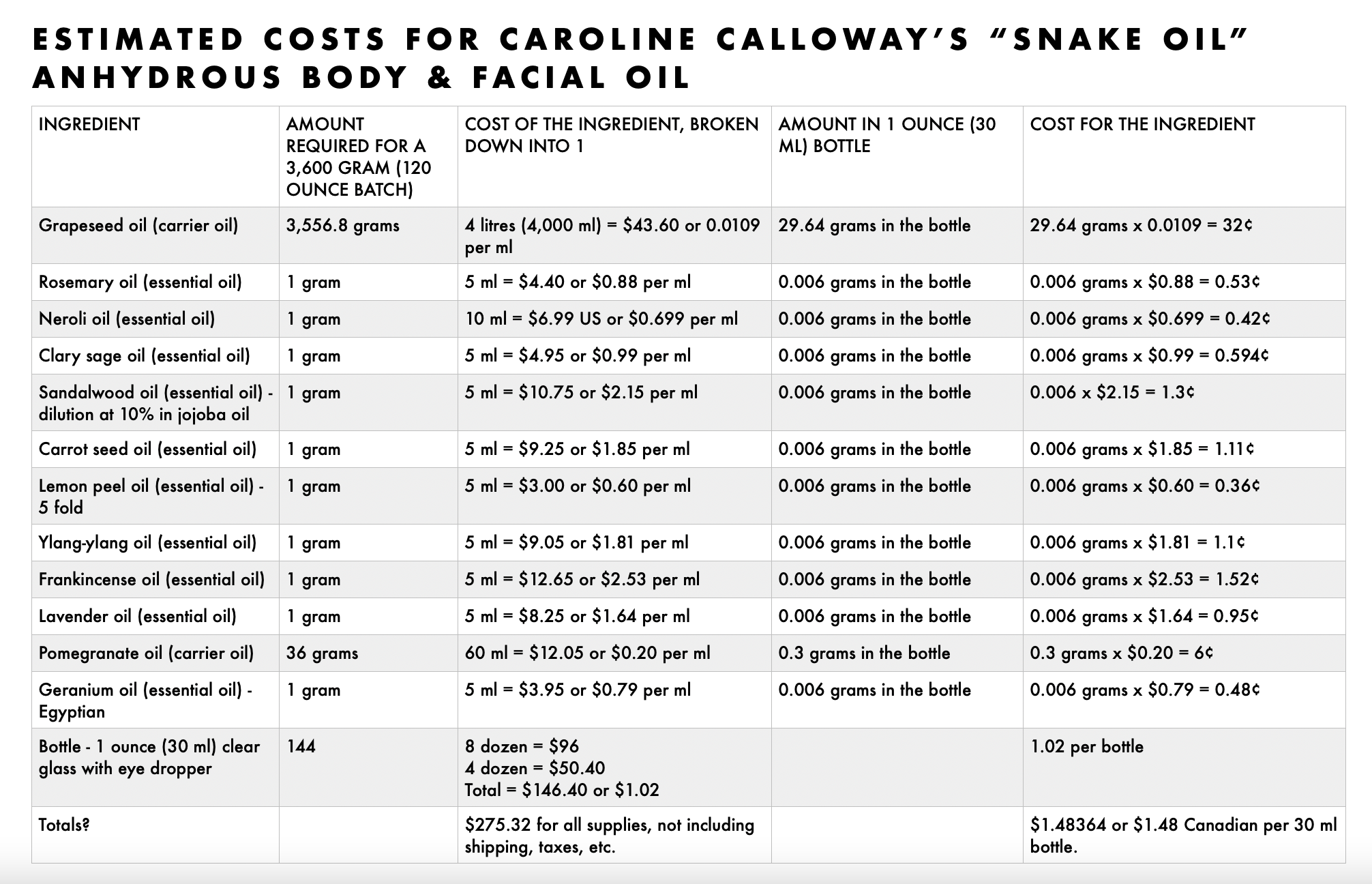 So there you have it – it could be as low as $1.17 with the Amazon bottles to $1.48 Canadian with the bottles I found at Voyageur Soap & Candle (which aren't gold on top).
To buy everything I have on my list, it works out to $275.32 Canadian to make 144 – 1 ounce bottles that sell for $75 US each? So she's spending roughly $275 on ingredients and packaging to make $9,000 ($75 x 120 bottles so far)? This is why it's all such a scam! (And should make you question how much larger companies charge for their products as there's no good reason any facial or body oil should cost $75 or more.)
Let's look at the claims she's making!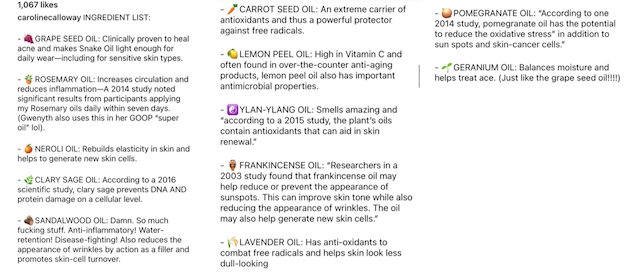 There's a very important thing to know about cosmetics – they are defined by the FDA as being "intended for uses such as cleansing the human body, making a person more attractive, or changing a person's appearance." (Reference) Things defined as cosmetics include products like foaming facial cleansers, body wash, shampoo, conditioner, facial moisturizers, body butters, lip balms, hand & body lotions, creams, and colour cosmetics, like lipstick, eye shadow, foundations, and so on.
A product is called a drug if "a product is intended to affect the way a person's body works, or to treat or prevent disease". They also definite it as "articles intended for use in the diagnosis, cure, mitigation, treatment, or prevention of disease" (Reference) So when you see something like "clinically proven to heal acne", "increases circulation and reduces inflammation", and "prevents DNA AND protein damage on a cellular level", copied, pasted, and claimed for "Snake Oil", you know you're in drug territory. This is definitely not allowed by the FDA or Health Canada.
If you want to make claims about your products, you want to talk about things like people "reported their fine lines and wrinkles appeared less noticeable" or people "felt their skin was softer", "looked brighter", or "gave them a great sense of self-confidence". You can say people "reported their skin has a more uniform appearance", but you can't say that this product heals age spots or acne as those would both be drugs.
If you want to know more about labelling laws and other regulations, Marie Gale is the best in the US! Check out her blog!
Good manufacturing processes?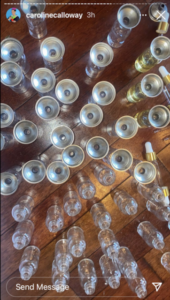 Oh wow, this is a bit of a minefield as Caroline Calloway is making this product in her studio apartment where she lives very messily with her cat. In photos she's posted on Instagram, we can see her packaging products on the floor by leaning bottles on her bare feet, using her un-gloved hands with her very long hair not tucked into so much as a ponytail, let alone a hair net.
Can she legally make products at home? She can! "It's not against the law to manufacture cosmetics in your home." Phew, well that's good, right? "Keep in mind, however, that it's your responsibility to manufacture products in an environment that will not cause them to become adulterated." (Part 6)
Eep…umm…hmmm…I think we have a problem because we can see in so many photos that the bottles and ingredients are on the floor, and the eye dropper parts are touching the floor, all of this is definitely against good manufacturing processes (GMP).
What makes a product adulterated? "Made poor in quality or unusable by the addition of something else, contaminated" (Marie Gale).
We might have concerns about the product being insanitary, which Marie Gale defines as "not sanitary or healthful", because proper GMP processes aren't being followed, or as filthy, "covered with or containing dirt or unclean matter, especially when disgusting or offensive". Given that we have pictures of her bottles with cat hair on them, I think both of these apply.
Marie Gale also notes that the product is considered adulterated if it "has been prepared, packed, or held under insanitary conditions and may have become contaminated with filth or injurious to health." She notes that "if the product has been made, packed, or held in conditioners where it might have gotten contaminated with filthy or harmful stuff (dirt, bacteria, dust, insects, etc.). It doesn't mean that it DID get contaminated, but that it…MAY have become contaminated."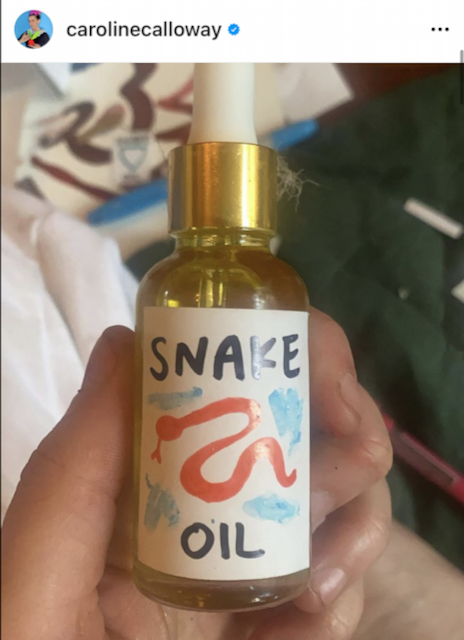 I think it's safe to say that Caroline Calloway's Snake Oil is adulterated as we have photographic evidence of poor manufacturing processes and confirmation of being contaminated by having cat hair on it. (Look at the right hand side of the gold part of the cap to see the cat hair.)
Marie Gale goes on to note that "When it comes to making and selling cosmetics in the US, there are really only two things for which the FDA or a state agency can come after you. They can cite you, tell you to cease and desist, make you stop selling your products or confiscate your products only if your products are adulterated or misbranded." Uh oh! (Reference: Marie Gale, What does ADULTERATED mean?)
Does Caroline Calloway have to test her products?
No, not necessarily, but she is "responsible for ensuring that your product is safe when it is used according to labeled directions, or in the way it is customarily used." (Part 8, FDA) See the previous section for more.
Do you have to file products to be approved by a governmental entity?
In Canada you have to file what's called a CNF or Cosmetic Notification Form to Health Canada to let them know what you're selling. What you have to do will depend on the region in which you live. You may need to submit information, you might not, it's really up to your local, state or provincial, and federal governments.
Learn more about this process with these great posts you can find on the blog…
Mind Your Own Business! Cosmetic Notification Forms (Health Canada) with Marg
Mind Your Own Business! Cosmetic Notification Forms (Health Canada) with Marg – a few other things you should know
And check out Marie Gale's blog for more information on specific states (USA)
Should someone have insurance when selling cosmetics? 
Considering that I honestly believe after reading all of this and writing all of this that this was a spur of the moment money grab that Caroline Calloway did very little planning to "launch", I'm sure she doesn't have insurance. But it's a wise decision to get it in case you have an issue with quality control, including microbial contamination.
In Canada, you can get in touch with the Handmade Bath and Body Guild to buy insurance through them for quite a low price for a yearly policy, or contact your local insurance company to get a quote. (I'm sure it's much cheaper to get it from the HBBG, but there's no harm in getting more information.)
So what could Caroline Calloway do differently?
The short answer is that she could stop doing all of this – and I'm sure she will shortly as all of her money making schemes seem to die out when she actually has to ship the product to the customers – because she's not exactly sure what she's doing, which can only lead to misery and grossness of products. I'm not saying one has to be a cosmetic chemist or formulator with ten years' experience to make or sell an anhydrous oil, but maybe she could consider spending some time reading, creating, testing, and re-formulating rather than pouring grapeseed into a bottle with a random quantity of essential oils and selling it the same day? Yeah, I know that's not helpful, so let's look at the non-snarky way she could make this product safer.
Engage in good manufacturing processes. Let's get off the floor and onto a counter or table. We can make the area cleaner by spraying it with 70% alcohol or isopropyl alcohol, cleaning all our equipment and instruments. She can wear gloves, tie her hair back, put on some shoes or at least keep her bare feet away from the product, ensure her cat isn't wandering all over the area, and check that all of the ingredients and packaging aren't covered in cat hair or other debris.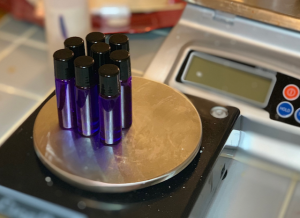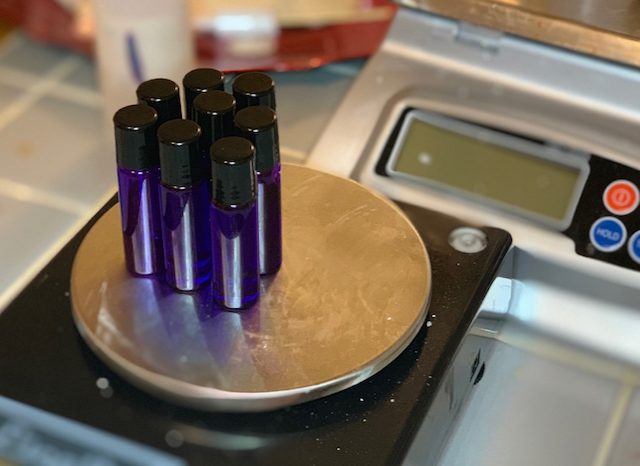 Measure the product accurately. I haven't seen a scale in the dozens of photos she's shared on Instagram, and we all know that weighing is the most accurate way to make products.
Add an extra anti-oxidant to this formula, which could have a shelf life as short as three months. She could also get them into an opaque or frosted bottle to extend the shelf life.
Create a proper ingredient list with the INCI names, then create a proper label with that list and her contact information beyond a website address.
Stop making claims! She can't say this will heal acne. She could say it that her friends have reported that their skin appears more youthful or brighter or softer, but not that their acne is gone.
Buy ingredients and packaging from reputable suppliers of cosmetic ingredients. It'll be cheaper and the quality of your essential oils will likely be much better.
Check out the lists of suppliers from around the world in the resource page of the blog. Click, then scroll down to "shopping" to see them all! There are so many great ones! And if you're a $10 subscriber to the blog, check out the coupons we have for saving at various suppliers this month!
Get insurance. The way she's making things now, there could be a whole lotta claims!
I'm sure there's more, but this is already the size of almost six normal posts, so I'll sign off here. If you have any thoughts about this post, please share them in the comments as I'd love to discuss this more!
Links to formulas for facial oils (facial serums) on this site! 
Formulas I would have offered at the US conference: Anhydrous facial serum
Zoom workshop: Anhydrous facial serum with squalane & Vitamin C (click, then download the PDF)
Facial products: Anhydrous facial serum with squalane & carrot tissue oil with l-ascorbic acid (Vitamin C) – formula
Links to formulas for body oils on this site! 
There are loads if you want to search for "body oil" in the search bar in the upper left of the page. This is one we made very recently…
Combining emollients: Section four, viscosity – Creating an anhydrous body oil (part one, reviewing what we know)
Combining emollients: Section four, viscosity – Creating an anhydrous body oil (part two, choosing emollients)
Combining emollients: Section four, viscosity – Creating an anhydrous body oil (part three, creating a formula)
Combining emollients: Section four, viscosity – Creating an anhydrous body oil (part four, meeting some oil soluble extracts)
Combining emollients: Section four, viscosity – Creating an anhydrous body oil (part five, using oil soluble extracts)
One ingredient, ten products: Sunflower oil in a body oil
References
A huge thank you to the snarkers in the subReddit SmolBeanSnark for all their detective work in gathering so much information about "Snake Oil"! I couldn't have written this post without all their hard work. The other references for this post are shared throughout rather than having a huge reference section here.
If you'd like to know more about the laws covering cosmetic production at home for homecrafters or in manufacturing facilities in the States, check out this post Resources for Industry on Cosmetics from the FDA in the States.
If you'd like to know more about the laws covering cosmetic production for home crafters or large businesses in Canada, check out this section from Health Canada.