Happy third week of September! Hope everyone is staying safe and doing well and avoiding everything in the world that's conspiring to kill us, make us sick, or make us miserable. We just had a fun week and a bit of smoke smoke smoke where I live with an air quality index that was the worst in the world for a day. Things are getting better today – I can see mountains, woo hoo! – and it looks like that might have been the worst of it? (Why did I say that out loud? I've doomed us all!)
I thought I'd share a few updates about what's going on around here…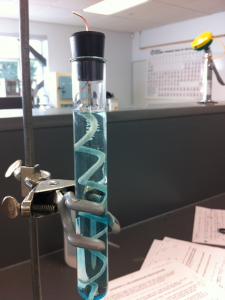 After taking a break when my mum was sick and I wasn't doing well, I've gone back to university for more chemistry courses. It's become a baffling ordeal as there are seven different programs, websites, and apps to log into and read and watch and do other things, and it's taking up a lot of my waking time at the moment as I try to navigate to all the places where I might find assignments, quizzes, lab experiments, and lectures. It's supposed to be a five hour class with about 10 hours a week extra work, but so far it's a full-time job just watching the videos! It'll get better as I get used to what's happening and as they streamline the process, but I don't think that'll be for a few weeks yet.
The blog won't just be Newbie Tuesday and Formulating Friday all the time – I'm just getting things rolling so the posts for the future instalments for other emulsifiers will be much shorter and they'll take up less space around here. Honestly, I've made a huge mistake in the way I've scheduled this series as I'm sharing the equivalent of at least three posts every Tuesday and Friday, posts I had hoped to have written far in advance in the summer, but was waylaid by the endless pain in my head until a few weeks ago.
I will be getting back to the combining emollients series shortly – the rest of part three seems ready to go – but I wanted to share a few non-lotion formulas before I start that up again.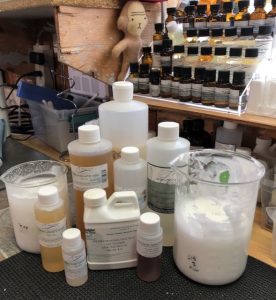 I am hoping to have a Zoom workshop this Sunday at 11 am PDT (Vancouver time) sharing with you new ingredients and equipment I have in my workshop, including my homogenizer and my Minipro immersion blender mixer.
There won't be a huge handout for this one as (a) I'm swamped with chemistry homework (2) the rest of the time is swamped with finishing up the e-zine for the month and (c) I'm going to wing it!
I have a list of the ingredients I want to share with you, so I'll have a little something ready, I'm not just going to babble for two hours, although I probably could.
I will share the Zoom workshop meeting link, password, and other material on Friday or Saturday, so look for it then. If I'm not able to get my stuff together to offer it, I'll share that too.
Don't forget about the Discord server I've started! If you feel like chatting, there's always a conversation gong on over there. I'm not scheduling any chats at the moment because I don't have any time, but I'm popping in from time to time to check out it and see how everyone is doing.
Info & invites for my Discord channel!
I think that's it for now? Hope you're having a great Monday!