Happy Friday, everyone! Hope all is well in your part of the world. I've gone a bit quiet this last week as we have a few things going on that required a lot of attention from both Raymond and me.
We're upgrading the blog! 
We've outgrown our current web space, so we have to upgrade our hosting thingie next week, starting on Monday, August 17th. It should be done by Thursday, August 20th as they're saying it'll be 72 hours for the process. Upgrading means the blog should be faster and these occasional server errors should disappear. It also gives us a lot more room to grow with more storage to share larger documents or videos, which is awesome!
You won't notice any difference accessing the blog as everything is still up and running. The only thing that might be different is that if you make a comment on a post I share during the upgrade, your comment may not be saved.
During this time, you can't subscribe to the blog or alter your subscription. The store is down, so you can't buy e-books or use a coupon to claim an e-book, but you can look at items in the shop.
New series coming soon to the blog!
I've been working furiously to get a shopping list and such ready for the upcoming Newbie Tuesday series/course we hope to start in September on making lotions with different emulsifiers. I know there are huge issues with getting supplies right now – it's one of the busiest times of the year as people gear up for Christmas soaping and such, companies are working with fewer staff, and shipping is incredibly slow – so I need to figure out the series from September to November before posting the shopping list, which means I have to plan out at least 12 weeks of formulas and posts to see what we need to order. I think the list is almost ready, but it won't be out by tomorrow, as I had hoped.
Click here to read a bit more about this series! 
I'm also working on an at least nine part series about combining emollients that I've been trying to finish since early 2019 that leads into a huge series on esters and helps explain why our emollients – natural oils, butters, waxes, esters, fatty alcohols, fatty acids, and more – feel the way they do and how we can combine them to create interesting new sensory experiences, textures, and more.
I've finished the backbone of it, but now I need to create posts with examples and formulas and take loads and loads of photos to illustrate the concepts. I need to have all of this ready because there are too many shiny things in my workshop trying to steal my attention – you'll see some of them in the new ingredients showcase Zoom workshop on Sunday, August 30th at 11 am PDT – so I need to make sure the series is done before I'm off down another rabbit hole.
Click here to see more information on the Zoom meetings for August as well as the Discord chat times and links to the channels!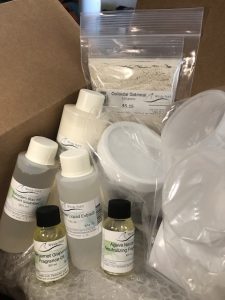 In September, I'm re-introducing Why the heck did I buy this and what can I do with it? Wednesdays. If you have a suggestion for an ingredient we should try or investigate, click this post to make your suggestions! Your suggestions for "Why the heck did I buy this and what can I do with it?" series!
And I have some equipment reviews to share about a few new mixers and two homogenizers, which are freakin' epic!
I think that's it for now? I'd love to hear your thoughts, comments, suggestions, feedback, and everything else you might want to share about the blog in the comments! Thanks for joining us here on the blog!