Welcome to April, time to watch the blooming of the amazing cherry and plum blossoms all over my town! So awesome a time of year! Raymond and I bought e-bikes a few days ago, and seem to spend all our time outside these days, marvelling as we see the blossoms overwhelming the trees, watching our own magnolia tree burst into flowers, giving us so much joy and happiness!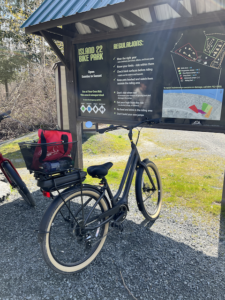 I'm obsessed with my e-bike! I'm trying to keep to on the lower power levels to get a good workout from the 20 km treks we've been making lately, and it's doing my arms and hands a world of exercising goodness as I use them to hold on, brake, turn, and do all kinds of other bike related stuff.
We bought a book, Let's Go Biking – Vancouver – that has trails for the Lower Mainland and Fraser Valley, and we've completed one so far, the Vedder Rotary Trail (20.5 km), and have plans for more. Did I mention I'm obsessed? I've never watched the weather so much to find an hour or two in a rainy day that we can use as biking time. I'm paying attention to nature and the trails of my community. And I'm getting some much needed exercise, which is a nice addition to the gym and aquafit classes I attend every week.
We even have a basket for little Sasja to ride in the back for trips to the dog park! She seems so happy in it, the wind in her hair, sniffing all the sniffs she can sniff.
I should note that as always, I'm sharing stories of my bikes and the link to the book above because I'm incredibly excited about them. We take absolutely no form of advertising on this site – no ads, no pop ups, no affiliate links, no sponsored content, no nothing! – thanks to your lovely monthly subscriptions. When I share something, it's because I love it and want to share! Thank you for your continued support of this blog, keeping it ad-free and uncluttered with nonsense.
What's happening on the site this month?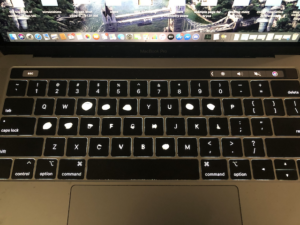 I'm doing better with my hands and arms with all the medication, treatment, modifications, exercise, creams, and anaesthetic, and I've been writing up a storm! I can't really use my trackpad well and have to get Raymond to help with me all the links and such on the posts and in the e-books, and holding a pen is still really hard, but I can type type type all day long! Woo hoo!
We replaced all these worn out keys last year, and I think I need to do them all again, that's how much I've been typing the last few months!
I have these two series I'm working on – one on triglycerides, the other on lamellar gel networks – that I really hope you'll see soon. I have to finish the entire series with formulas and photos and everything else before I share the first post as I would hate to not complete and leave you hanging the way George RR Martin has left me hanging for nine freakin' years…ahem, I digress. So one of this might be up this month or early next month as I have all the diagrams ready for both series as well. (Thanks, Aoife!)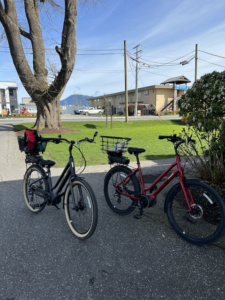 I've learned my lesson not to try to predict what'll be on the blog this month as something could come along – like bikes! – and sweep me away into a completely different direction for both the posts and the e-book.
Starting later today, you'll see a six part series on making a 10 minute, cold process, protecting and conditioning facial moisturizer that I've been using when riding my bike to keep out the cold, wind, rain, and everything else, perfect for layering under sunscreen – which I'm wearing every time I'm out now because I got a sunburn on my face in late March when it was 17˚C! (Yep, deja vu as I mentioned this happened to me in mid-March 2019 when we were walking on the seaside in Liverpool, England. Have I mentioned I'm "dead pale", almost blue at times?)
Did you want to see our reviews of some sunscreens we've tried? We can't make them, so we chose a number to decide which we liked best. I'm happy to share them here, if there's interest!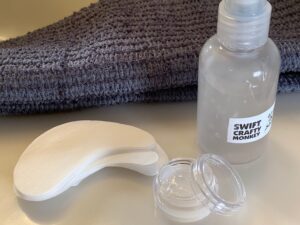 I'm writing up an eye gel I've been using during the less humid months that I have to share. It's fabulous on its own or with an under eye mask!
I have another iteration of my most ever favourite epic leave in conditioner, which I ran out of so much, I had to water it down to make it through the week.
I'm hoping for more workshop time this weekend, unless it's sunny, then BIKES!
I've had some questions about when I might be teaching again, and the short answer is that I'm hoping to get some Zoom workshops planned and the lengthy hand outs written up, then I can do one or two near the end of the month, early May. They're pretty labour intensive with the prep, writing of the handout, offering of the Zoom, then the clean up afterwards, taking up at least 10 hours in a week. I love doing them so much, but I hate the mess in the workshop and the clean up, which is brutal on my hands and arms.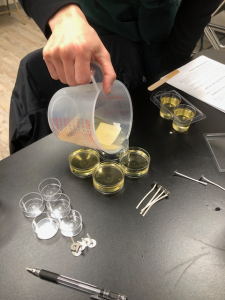 As for teaching in person at Voyageur Soap & Candle, honestly…I don't know. I can't wear a mask for a long time because of the spasms and cramps in my head and face and it's not safe enough to be unmasked with the wave of BA.2 arriving, so I can't say for sure, but I don't think it'll be until the summer. I'm definitely doing a hair care class so we can play with the Lamesoft PO 65 and Plantasil Micro in our liquid shampoo along with shampoo bars, and there'll be a lotion making class and a facial products class. Are there classes you'd like to see?
As we do every month on the blog…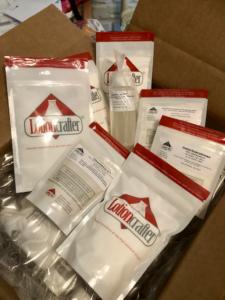 If you're in need of supplies, $10 subscribers to the month have five discount coupons this month for Formulator Sample Shop, Lotioncrafter, Voyageur Soap & Candle, and Windy Point Soap Making Supplies. Thank you for this lovely gift out of the goodness of your hearts, lovely suppliers!
The coupons are updated as I get the information from the suppliers. If they aren't updated, please be patient. Thanks!
If you're a $3 subscriber or higher, click here to see the duplication request post!
Please note that requests for duplication are only considered if they're posted in the duplication section as this is part of the $3 and up subscribers benefits and not if they're emailed, direct messaged, or suggested in comments on social media. I cannot possibly re-create every single formula suggested as this blog would be nothing but duplicated products — how boring is that? – so I can only choose so many. I go into detail about my process for choosing formulas in both the duplication request post and in this post. Thank you for continuing to share them in that post. I have been getting loads of ideas from it the last few months, and there will be more to come soon, I hope.
And don't forget that you have access to the formula directory! The formula directory is constantly being updated to include even more formulas from around the blog, so if you're looking for a formula, you'll find it in the formula directory!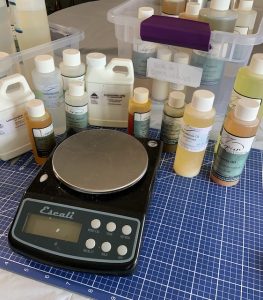 Also check out the latest addition to the monthly posts – Ingredient substitution ideas post ($3 and up)! Because it's getting harder to find supplies thanks to shortages and shipping issues, if you have an ingredient you're trying to find or need help substituting for in a formula, please share your thoughts over there!
If you're a $5 subscriber or higher, click here to see the month's Q&A post!
And don't forget about the monthly Super happy fun member-to-member post for April 2022! It's more important than ever that we connect with other people during this awful time, so please feel free to share your thoughts on this post or others on the blog!
You can always find the links to these monthly posts in the pinned post section, which is found to the right of just about every page on the blog on desktop and most mobile, or the bottom of every page for the odd mobile device. Or do a search for "Q&A" or "duplication" to find them. I'm afraid I don't have time to do searches for you if you write to me as I'm swamped and my arms and hands are still in minor spasm, so doing one of those two things will find you those posts very quickly.
If you're a $10 subscriber or higher, you'll get the e-zine for the month – which is generally issued on the 27th or later. I'm never sure what the topic will be until I start reviewing outlines, notes, formulas and everything else, but there are – as always – a few different ones on the go. Watch for this post towards the end of April 2022 for the e-book for the month.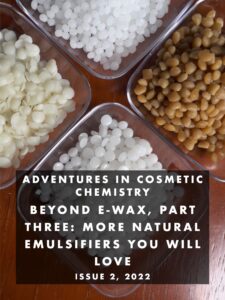 Last month, we issued the e-book, Beyond emulsifying wax, part three: More natural emulsifiers you will love!, which you would have received it as part of your $10 subscription! (You can still buy it in the shop by clicking the link!)
If you missed one for a month during which you were a subscriber, please click here to see those coupon codes. (Please download them as soon as you can as these links can expire after a year or so.)
Thank you so much for joining us in April 2022 continuing to support the site with your subscriptions! You're the reason this site isn't cluttered with really annoying pop ups, ads, affiliate links, and sponsored content! Thank you for 13 years and 1 month of formulating and writing fun, and thanks for joining us for the month of March!