How is it already February 2022? It feels like it was Christmas yesterday! I'm looking forward to a bit of snow this week – not too much, please, I'd still like to get out and about to get groceries and such in my tiny car with all-season tires – and Groundhog Day on the 2nd because it's such a silly holiday. We don't make a big deal about Valentine's Day around here, except when it comes to all the interesting chocolates and candy we can buy, some half-price on the 15th!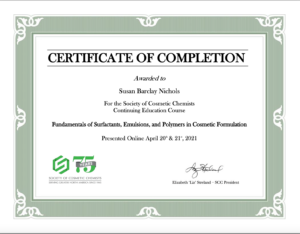 I have a course I'm working on this week – I missed last week's live sessions – Design of lamellar gel network emulsions through the American Oil Chemists' Society, which I learned about through my membership with the Society of Cosmetic Chemists. I took two courses through the SCC and AOCS last year – one on surfactants, emulsifiers, and polymers; the other on emollients, triglycerides, and fatty acids – both of which were awesome. I'm excited to get into this three day course and learn all I can!
As an aside, for those of you asking which courses I recommend, I recommend the ones through the Society of Cosmetic Chemists, American Oil Chemists' Society, and the Institute of Personal Care Science. These are all incredibly well-respected organizations that offer science-based educational programs – short and long – that'll help you learn more about formulating, offering great information on the chemistry of our ingredients and products.
I'm still struggling with unpredictable muscle spasms and cramps in my head, arms, and hands, so I'm not going to plan for a Zoom workshop until I see if these get more under control. I was four weeks late getting my Botox this month, so that's a new fun pain to add to the list of things I'm enduring every day, but the good news is that I had it last week, and it feels like it's kicking in properly, so yay to that!
The gyms re-opened on January 22nd, so Raymond and I have been going to ride stationery bikes or use the pool for aquafit, which is all great stuff for helping with spasms and pain.
What's going on around the blog?
I have an eight part series starting tomorrow on how to make liquid clarifying shampoo, which goes into all the information you'll need to make a shampoo from scratch, then how to modify it using various actives and botanicals.
I have a few series on the go at the moment – one on conditioners, a duplication for a Garnier make-up remover, another duplication, for Dry Bar's powdered shampoo, and one on choosing a scale – but there are others I'm currently drafting or editing, so I'm not sure which ones you'll see this month.
I have a series on triglycerides and emollients that I'm really enjoying writing, and I hope I'll have up shortly as it's such important stuff when it comes to questions like "why do coconut oil and shea butter not play well together?".
And I've been playing with a number of new ingredients I'm hoping to share with you – ClearHance HC (cationic conditioner), Plantasil Micro (conditioner), amla oil, buruti oil, prickly pear extract, cranberry butter, jojoba butter, olive butter, a few other butters, and more proteins like quinoa and vegetable collagen.
As we do every month on the blog…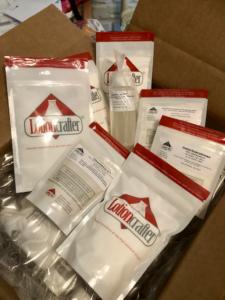 If you're in need of supplies, $10 subscribers to the month have five discount coupons this month for Formulator Sample Shop, Lotioncrafter, Voyageur Soap & Candle, and Windy Point Soap Making Supplies. Thank you for this lovely gift out of the goodness of your hearts, lovely suppliers!
If you're a $3 subscriber or higher, click here to see the duplication request post!
Please note that requests for duplication are only considered if they're posted in the duplication section as this is part of the $3 and up subscribers benefits. I cannot possibly re-create every single formula suggested as this blog would be nothing but duplicated products, and how boring is that? I can only choose so many, and I go into detail about my process for choosing formulas in both the duplication request post and in this post. Thank you for continuing to share them in that post. I have been getting loads of ideas from it the last few months, and there will be more to come soon, I hope.
And don't forget that you have access to the formula directory! The formula directory is constantly being updated to include even more formulas from around the blog, so if you're looking for a formula, you'll find it in the formula directory!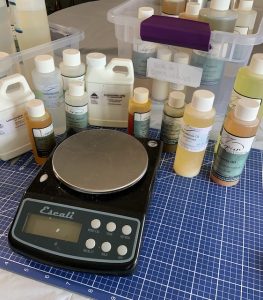 Also check out the latest addition to the monthly posts – Ingredient substitution ideas post ($3 and up)! Because it's getting harder to find supplies thanks to shortages and shipping issues, if you have an ingredient you're trying to find or need help substituting for in a formula, please share your thoughts over there!
If you're a $5 subscriber or higher, click here to see the month's Q&A post!
And don't forget about the monthly Super happy fun member-to-member post for February 2022! It's more important than ever that we connect with other people during this awful time, so please feel free to share your thoughts on this post or others on the blog!
You can always find the links to these monthly posts in the pinned post section, which is found to the right of just about every page on the blog on desktop and most mobile, or the bottom of every page for the odd mobile device. Or do a search for "Q&A" or "duplication" to find them. I'm afraid I don't have time to do searches for you if you write to me as I'm swamped and my arms and hands are still in minor spasm, so doing one of those two things will find you those posts very quickly.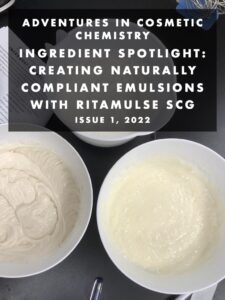 If you're a $10 subscriber or higher, you'll get the e-zine for the month – which is generally issued on the 27th or later. I'm never sure what the topic will be until I start reviewing outlines, notes, formulas and everything else, but there are – as always – a few different ones on the go. Watch for this post towards the end of February 2022 for the e-book for the month.
Last month, we issued the e-book Ingredient spotlight: Creating naturally compliant emulsions with Ritamulse SCG, which you would have received it as part of your $10 subscription! (You can still buy it in the shop by clicking the link!)
If you missed one for a month during which you were a subscriber, please click here to see those coupon codes. (Please download them as soon as you can as these links can expire after a year or so.)
Thank you so much for joining us in the new year, continuing to support the site with your subscriptions! You're the reason this site isn't cluttered with really annoying pop ups, ads, affiliate links, and sponsored content! Happy February!