I know I say this every month, but how the heck is it March already? It's still snowing this morning with predictions of more to come! Eek, so beautiful!
One of the best purchases we've made in years was made in March 2022 – BIKES! Raymond and I each bought an e-bike, and we've had so much fun on them! We live in the Fraser Valley, a place with so much natural beauty, it's overwhelming. We have access to so many trails with the river and the dykes that surround the city along with all the country roads that lead to quieter areas of town and an almost direct route from our house downtown. A short drive will take us into Metro Vancouver where there are even more beautiful trails and bike routes and quiet streets we can ride. We really are so fortunate.
If you live near me and want to learn about all the bike routes and casual rides, check out Let's Go Biking! Her book on the Lower Mainland and Fraser Valley have been invaluable to us, and we're going to follow some routes for Vancouver Island and Whistler in late spring.
What can you expect to see on the site this month?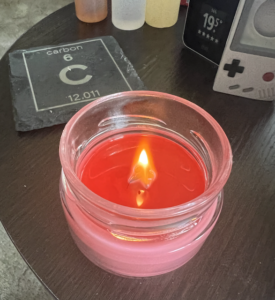 What's the opposite of writer's block, because I'm in the middle of that right now? I can't stop writing, it's so much fun not having all these physical restrictions on me as my arms are feeling much better, to the point where I have been playing in the workshop more often! Woo and hoo, indeed! And I have a super awesome microphone for dictating that I'm training to recognize lots of the specialty words we use, like Cocamidopropyl Betaine and emulsion (not "emotion").
The problem is that I have so much on the go, I'm not sure what'll be done first. It all depends on photos and packaging and diagrams being ready as well as where my interest lies on a given day.
So the real question is what am I working on this month?
I have a number of series on which I'm working at the moment – making oil-free emulsions, making liquid clarifying and conditioning shampoos, creating brightening facial products, making non-butter containing body butters, how (not) to use urea in formulations – on top of a bunch of "one off" posts that are shorter.
I have a one ingredient, five products series with babassu oil, and more on jojoba related products, like jojoba oil and jojoba esters, along with formulas.
I also have a post or two on making soy wax candles with some new wooden wicks that I wanted to share.
I have a bunch of Q&A that need to be answered, like the series I've been working on for making something like Cerave moisturizing cream.
And I have a series in which we'll be looking at how to create samples for observation over time in which we'll meet and revisit all kinds of products I've made dating back to 2017 based on the samples I have in my workshop, office, bathroom, and living room. (There are literally dozens of formulas to share in this series!)
I have longer ones that are still works in progress, like the triglycerides series and the one about making water-in-oil emulsions that might be ready, but they're longer than normal, so they might still be a while.
Any suggestions on what you'd like to see from this long list of things?
As we do every month on the blog…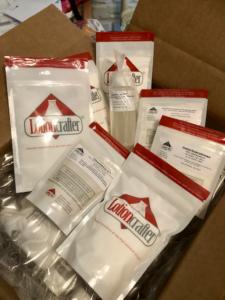 If you're in need of supplies, $10 subscribers to the month have four discount coupons this month for Lotioncrafter, Voyageur Soap & Candle, and Windy Point Soap Making Supplies. Thank you for this lovely gift out of the goodness of your hearts, lovely suppliers!
If you're a $3 subscriber or higher, click here to see the duplication request post!
Please note that requests for duplication are only considered if they're posted in the duplication section as this is part of the $3 and up subscribers benefits and not if they're emailed, direct messaged, or suggested in comments on social media. I cannot possibly re-create every single formula suggested as this blog would be nothing but duplicated products — and how boring would that be? – so I can only choose a few a year to create. I go into detail about my process for choosing formulas in both the duplication request post and in this post. Thank you for continuing to share them in that post. I have been getting loads of ideas from it the last few months, and there will be more to come soon, I hope.
And don't forget that you have access to the formula directory! The formula directory is constantly being updated to include even more formulas from around the blog, so if you're looking for a formula, you'll find it in the formula directory! (That word has lost all meaning now…)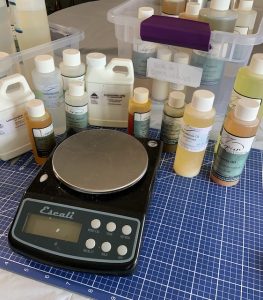 Also check out the latest addition to the monthly posts – Ingredient substitution ideas post ($3 and up)! Because it's getting harder to find supplies thanks to shortages and shipping issues, if you have an ingredient you're trying to find or need help substituting for in a formula, please share your thoughts over there!
If you're a $5 subscriber or higher, click here to see the month's Q&A post! I check this post every day, and it's my priority to answer your questions or help with your formulas – it's the best way to get in touch with me and guarantee an answer!
Right now, this is the only way I can answer questions or analyze formulas because I have such limited time, so please make that your first stop if you have something you simply have to know! 😁
And don't forget about the monthly Super happy fun member-to-member post for February 2023!, which is available to all levels of subscriptions. It's more important than ever that we connect with other people during this ongoing pandemic, so please feel free to share your thoughts on this post or others on the blog!
You can always find the links to these monthly posts in the pinned post section, which is found to the right of just about every page on the blog on desktop and most mobile, or the bottom of every page for the odd mobile device. Or do a search for "Q&A" or "duplication" to find them. I'm afraid I don't have time to do searches for you if you write to me as I'm swamped and my arms and hands are still in minor spasm, so doing one of those two things will find you those posts very quickly.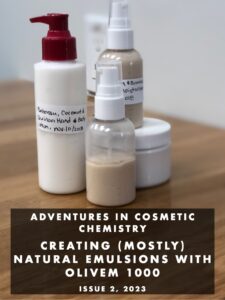 If you're a $10 subscriber or higher, you'll get the e-book for the month – which is generally issued on the 28th or later. I'm never sure what the topic will be until I start reviewing outlines, notes, formulas and everything else, but there are – as always – a few different ones on the go.
The e-book for February 2023 was Creating (mostly) natural emulsions with Olivem 1000. In the shop, it's $25 Canadian, but it also came with your $10 US subscription. You can still pop on over to the store to snag a copy for yourself if you missed it last month.
If you were a $10 subscriber in February 2023, please click here to see the coupon page to get your own copy.
Click here to see the table of contents!
Thank you all so much for joining me here in March as we move into spring up here in Canada! You inspire me, delight me, challenge me, and make me think – for all of that I am so grateful! What are you up to this month? What are your plans for formulating, researching, marketing, selling, and everything else related to this amazing craft!