Strawberry seed oil (INCI: Fragaria Ananassa (Strawberry) Seed Oil)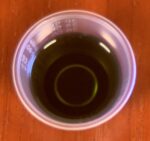 Strawberry seed oil is an upcycled oil, non-GMO, gluten free, a liquid, light green to dark green oil that smells quite green, like the top leafy part of the strawberry plant. It's light-medium, non-greasy, with good cushion and lubricity, good slip and glide with low drag. It's suitable for any product where you want to have a slightly more lubricious oil with loads of anti-oxidants and phytosterols – in emulsions, like lotions, creams, facial moisturizers, body butters, or hair conditioners, or anhydrous products, like facial sera, facial oils, hair oils, whipped butters, lip balms, or salves. The unsaturated fatty acids will soften skin and help reduce dryness, scaling, and transepidermal water loss.
Suggested usage: Up to 100% neat on skin. Add to the heated phase of emulsions or anhydrousproducts.
Shelf life: Up to a year. Store at 10˚C to 25˚C (50˚F to 77˚F), room temperature. Do not freeze.