Welcome to August! It's the middle of the summer around here, and after last month's Sunpocalypse, when temperatures reached 45˚C (113˚F) last month, I'm happy when it's anything lower than 30˚C (86˚F), even though that's still too high for me to play in my workshop, and I'm running out of loads of really vital things, like my epic rinse-off conditioner and calendula & chamomile body wash. Sadly, wildfire season is upon us, and the forecast for my town today is "smoke", but at least it's raining for the first time in more than five weeks, so that's a good thing.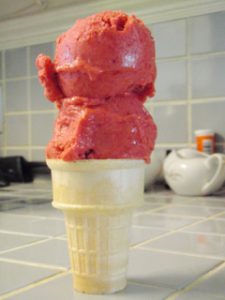 We're surrounded by farms with amazing in the Fraser Valley, so we're all about the berries and corn and other seasonal goodies this month. We haven't made jam yet this year, but we're hoping to make some dill & garlic pickles, and we've made a few vinegars, like the strawberry vinegar in the photo at the top. Nope, this isn't for products* – it's for the eatin'! It's awesome in salad dressings, salads, on roasted asparagus – anywhere you need some acid!
*Please please please don't use ingredients like this – teas, water infusions, oil infusions – in our products as they can have a lot of plant matter in them, even when strained, that can cause serious contamination really quickly! And remember that you can't use an ingredient you've infused at home in a product you're going to sell as you don't really know what's in it, you don't have an INCI name, and you won't be able to produce an SDS. There are so many reasons not to make your own botanical extracts, so check out these posts for more – – Why can't we use tea in our products? and Infusions, teas, and using vinegar to preserve products?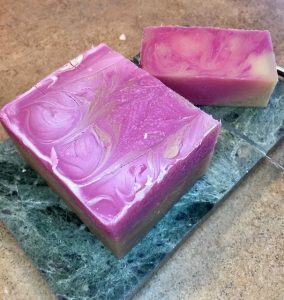 August is a really busy time with our suppliers because people are starting to make soap and other products for the Christmas season, so if you think you might want to make a few things later this year, definitely start shopping now.
Fortunately, if you're a $10 subscriber to the blog, we have coupons this month for five suppliers – Lotioncrafter (USA), Formulator Sample Shop (USA), Formulator Sample Shop (EU), Voyageur Soap & Candle (Canada), and Windy Point Soap Making Supplies (Canada). (Click here to see the suppliers' coupon section, always found in the pinned posts section to the right of every blog page.)
You may be seeing a lot of empty shelves right now as it's getting harder to get ingredients like emulsifiers and surfactants – like SCI, the base for a lot of our shampoo bars – thanks to the pandemic. There're problems right through the supply chain, from gathering the materials to shipping them to the factories then shipping those finished ingredients to our suppliers. I'm not saying you should be hoarding materials, I'm suggesting this might be a great time to learn how to use different ingredients if you can't find the ones you know best.
Because of these potential shortages, I figured we could do some posts on substitutions! I've set up the new Ingredient substitution ideas post ($3 and up) so you can share the ingredients you're looking to substitute! This will be a new monthly post the way the duplication request post ($3 and up) and the Q&A post ($5 and up) is now.
Which products am I using right now?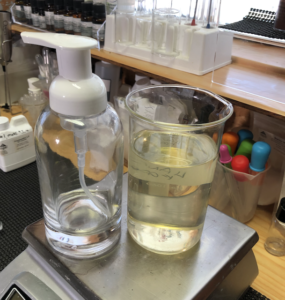 I'm absolutely enamoured by my Honeycomb's Big! vanilla, honey & ginger gentle foaming hand cleanser, which has my hands so happy that they're not parched and reddened and cracking from having to wash them a dozen times or more a day.
I've been slathering myself in 10 minute, natural hand & body lotion with babassu & amaranth oil with Fision® Hydrate, hydrolyzed baobab protein, bee pollen, and ginger root, fragranced with cotton candy fragrance oil from Voyageur Soap & Candle. Love this one as it's cold process and can be made in about 20 minutes, from collecting the ingredients to being ready for packaging.
I'm always in love with my shampoo bars for oily hair with violet dye to brighten blonde or grey hair! I can't live without these!
Oh, and my epic leave-in conditioner is perfect for summer months when it's less humid and I don't need to include much by way of anti-frizzing properties. This month, I fragranced it with strawberry milkshake fragrance oil from Saraphina's Coastal Colours and I smell scrumptious. (Plus, this conditioner brings all the boys to the yard, and I really need someone to trim these hedges and water the lawn, so it's two great things in one.)
And I've been through two batches of my astringent, cooling, de-griming, and hydrating mister with loads of hydrosols! I think my favourite has to be the clary sage, peppermint, and tea tree combination.
What's happening on the blog?
I have a number of potential duplications I've been working on for ages and I hope to share those with you soon. It's just too warm to get into the workshop – even with air conditioning – so we're lagging on getting photos ready for posts.
Of course, there are always new ingredients to share with you, like new powdered surfactants, liquid surfactants, cold emulsifiers, actives, extracts, and so so much more, and you'll see more of those, like the ones from the ChemBox packaging and ingredient sample box I received last month or the Guerbet esters series I've been working on for ages, so look for those this month.
As we do every month…
If you're in need of supplies, $10 subscribers to the month have five discount coupons this month for Lotioncrafter, Voyageur Soap & Candle, and Windy Point Soap Making Supplies. Thank you for this lovely gift out of the goodness of your hearts, lovely suppliers! (These coupons will be updated as I get information from the suppliers. See below.)
Formulator Sample Shop (USA) is offering coupons again – yay, thank you! – so check out the suppliers' coupon section to see that discount code!
As August 2nd is BC Day and an official day from work for most Canadians, if the coupons aren't updated today, they'll be updated shortly. I don't wish to bother suppliers on one of their very few days off to ask for them. They will be updated when they're updated and you'll be able to find those on the supplier's specific coupon page when it's done.
If you're a $3 subscriber or higher, click here to see the duplication request post! And don't forget that you have access to the formula directory! The formula directory is constantly being updated to include even more formulas from around the blog, so if you're looking for a formula, you'll find it in the formula directory!
Please note that requests for duplication are only considered if they're posted in the duplication section as this is part of the $3 and up subscribers benefits. I cannot possibly re-create every single formula suggested as this blog would be nothing but duplicated products, and how boring is that? I can only choose so many, and I go into detail about my process for choosing formulas in both the duplication request post and in this post.
Also check out the new monthly post – Ingredient substitution ideas post ($3 and up)!
If you're a $5 subscriber or higher, click here to see the month's Q&A post! (I've continued from last month's post as there were some great questions I needed to look at again!)
And don't forget about the monthly Super happy fun member-to-member post for August 2021! It's more important than ever that we connect with other people during this awful time, so please feel free to share your thoughts on this post or others on the blog!
You can always find the links to these monthly posts in the pinned post section, which is found to the right of just about every page on the blog on desktop and most mobile, or the bottom of every page for the odd mobile device. Or do a search for "Q&A" or "duplication" to find them. I'm afraid I don't have time to do searches for you if you write to me as I'm swamped, so doing one of those two things will find you those posts very quickly.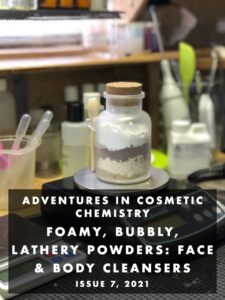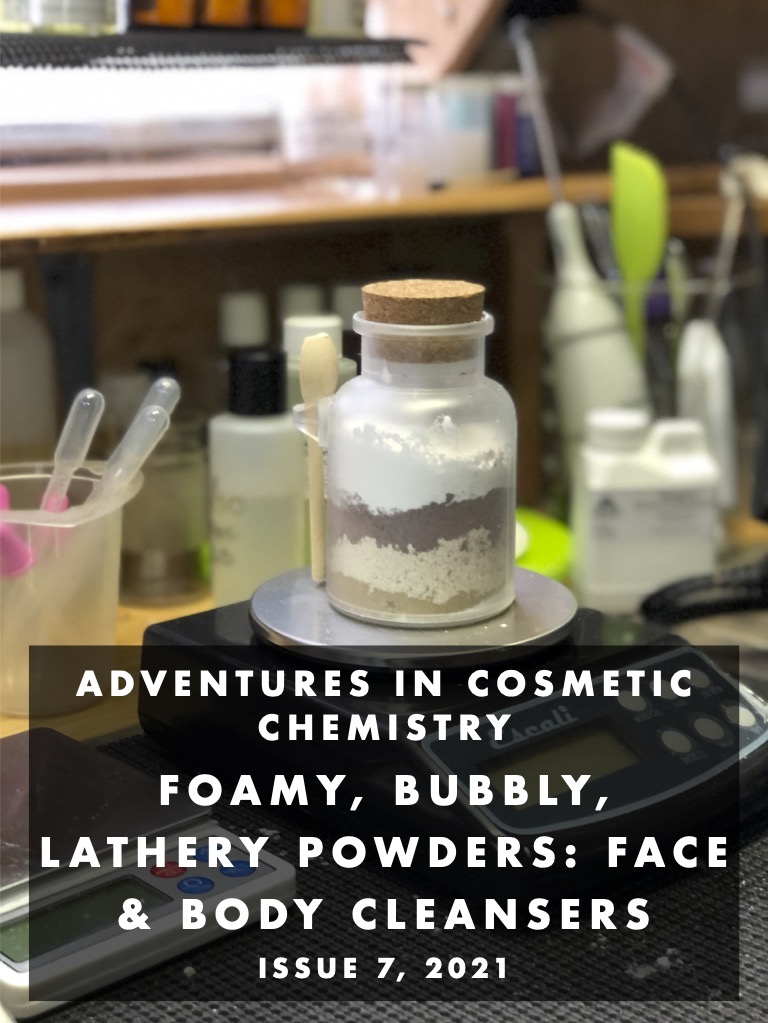 If you're a $10 subscriber or higher, you'll get the e-zine for the month – which is generally issued on the 27th or later. I'm never sure what the topic will be until I start reviewing outlines, notes, formulas and everything else, but there are – as always – a few different ones on the go. Watch for this post towards the end of August 2021 for the e-book for the month.
Last month, you would have received Foamy, bubbly, lathery powders: Face & body cleansers as part of your July 2021 monthly subscription!
If you missed one for a month during which you were a subscriber, please click here to see those coupon codes. (Please download them as soon as you can as these links can expire after a year or so.)
Thank you for joining us for August 2021! We so appreciate your continued support of the site, the e-books, and our family! You're the reason we don't have to have ads, pop ups, sponsored posts, affiliate links, or any other advertising on the blog. You have no idea how much we appreciate it!