December — my favourite time of year! We adopted little Sasja on December 16; Raymond and I celebrate 29 years as a couple on December 19; my birthday is December 21; we celebrate Christmas on the 25th; and I was adopted as a baby on December 31, so it's kind of a second birthday.
*There's a reason we were married May 16th! Raymond's birthday is October 11, so we have two things to look forward to outside this massive holiday season.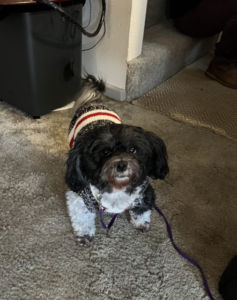 We had our first major snow yesterday – earlier than normal – so we wrapped Sasja up tight in her first sweater!
The photo at the top of this post was from sunset last night. It was beautiful! 
Some information on the courses I've been taking! 
I had a blast in November taking three courses from the American Oil Chemists' Society (AOCS) and Society of Cosmetic Chemists (SCC), including Beyond Triglycerides, Substantiating claims for our products, and anti-microbial protection in cosmetics. (The latter paired nicely with the course I took on the skin's biome in September.)
If you want to take some of these, they do offer archived versions. Click the links above to find out more. Not a financial thing, just sharing my joy about the courses I'm loving! 
These are the courses I've taken so far…
Fundamentals of Surfactants, Emulsions, and Polymers in Cosmetic Formulations (April 2021)
Lipids in Personal Care and Cosmetics (May 2021)
Design of Lamellar Gel Emulsions for Personal Care and Cosmetics Application (January 2022)
Curly Hair – Structure Properties and Care (July 2022)
Fundamentals of Microbiome for the Cosmetics Industry (September 2022)
Antimicrobial protection for cosmetics (November 2022)
Cosmetic claims substantiation (November 2022)
Beyond triglycerides (November 2022)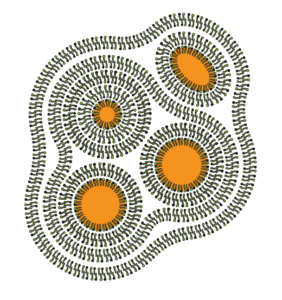 I'm looking forward to sharing more of what I've learned with you here! Are there any topics that interest you more than others?
I have two huge series I've been working on on lamellar gel networks and triglycerides that I keep saying I hope to have done soon, but when I'm done, I've learned so much new stuff, I have to start again! Plus, all the worksheets and charts – these are really huge series!
I've even commissioned so many new diagrams for this site from the amazing Aoife, like this one! 
I've already started sprinkling information into the posts about lamellar gel networks, and I've shared quite a bit about how rheology modifiers work to thicken emulsions and increase stability in the latest e-book, Thickening emulsions: Rheology modifiers). And I shared some parts of the triglyceride series in these posts – x Triglycerides: Why coconut oil & shea butter don't mix! Part one! and Triglycerides: Why coconut oil & shea butter don't mix! Part two! But there's still so much more!
What can you expect to see on the site this month?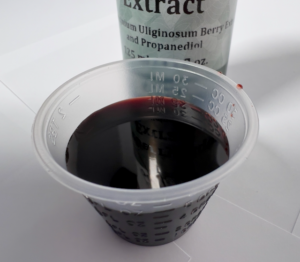 I actually have a plan for what you'll see on the site this month!
I have posts on two new botanical extracts – blueberry and cranberry – with two formulas for shampoo and foaming hand cleanser.
I'm hoping to share posts on a new powdered surfactant, another botanical, and some new preservatives as well (but those could be a January thing if I get more questions than normal this month.)
I have a short series on scales I've tried and those I recommend that finally has all the photos in place. Yay!
I've tried to answer as many questions as I can, so you'll see a post on why Incroquat BTMS-50 isn't an emulsifying wax (and why that doesn't matter), and I hope my huge Cerave moisturizer duplication comes out this month too.
And there may be some fun holiday surprises too, so don't forget to visit throughout the month!
As we do every month on the blog…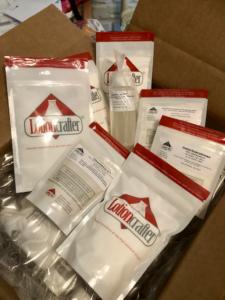 If you're in need of supplies, $10 subscribers to the month have five discount coupons this month for Formulator Sample Shop, Lotioncrafter, Voyageur Soap & Candle, and Windy Point Soap Making Supplies. Thank you for this lovely gift out of the goodness of your hearts, lovely suppliers!
If you're a $3 subscriber or higher, click here to see the duplication request post!
Please note that requests for duplication are only considered if they're posted in the duplication section as this is part of the $3 and up subscribers benefits and not if they're emailed, direct messaged, or suggested in comments on social media. I cannot possibly re-create every single formula suggested as this blog would be nothing but duplicated products — and how boring would that be? – so I can only choose a few a year to create. I go into detail about my process for choosing formulas in both the duplication request post and in this post. Thank you for continuing to share them in that post. I have been getting loads of ideas from it the last few months, and there will be more to come soon, I hope. 
And don't forget that you have access to the formula directory! The formula directory is constantly being updated to include even more formulas from around the blog, so if you're looking for a formula, you'll find it in the formula directory! (That word has lost all meaning now…)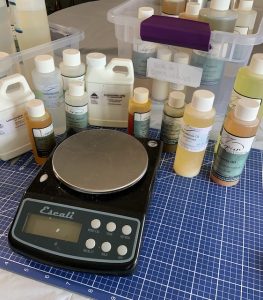 Also check out the latest addition to the monthly posts – Ingredient substitution ideas post ($3 and up)! Because it's getting harder to find supplies thanks to shortages and shipping issues, if you have an ingredient you're trying to find or need help substituting for in a formula, please share your thoughts over there!
If you're a $5 subscriber or higher, click here to see the month's Q&A post! I check this post every day, and it's my priority to answer your questions or help with your formulas – it's the best way to get in touch with me and guarantee an answer!
Right now, this is the only way I can answer questions or analyze formulas because I have such limited time, so please make that your first stop if you have something you simply have to know! 😁
And don't forget about the monthly Super happy fun member-to-member post for December 2022!, which is available to all levels of subscriptions. It's more important than ever that we connect with other people during this ongoing pandemic, so please feel free to share your thoughts on this post or others on the blog!
You can always find the links to these monthly posts in the pinned post section, which is found to the right of just about every page on the blog on desktop and most mobile, or the bottom of every page for the odd mobile device. Or do a search for "Q&A" or "duplication" to find them. I'm afraid I don't have time to do searches for you if you write to me as I'm swamped and my arms and hands are still in minor spasm, so doing one of those two things will find you those posts very quickly.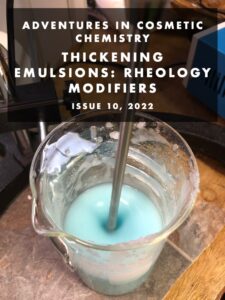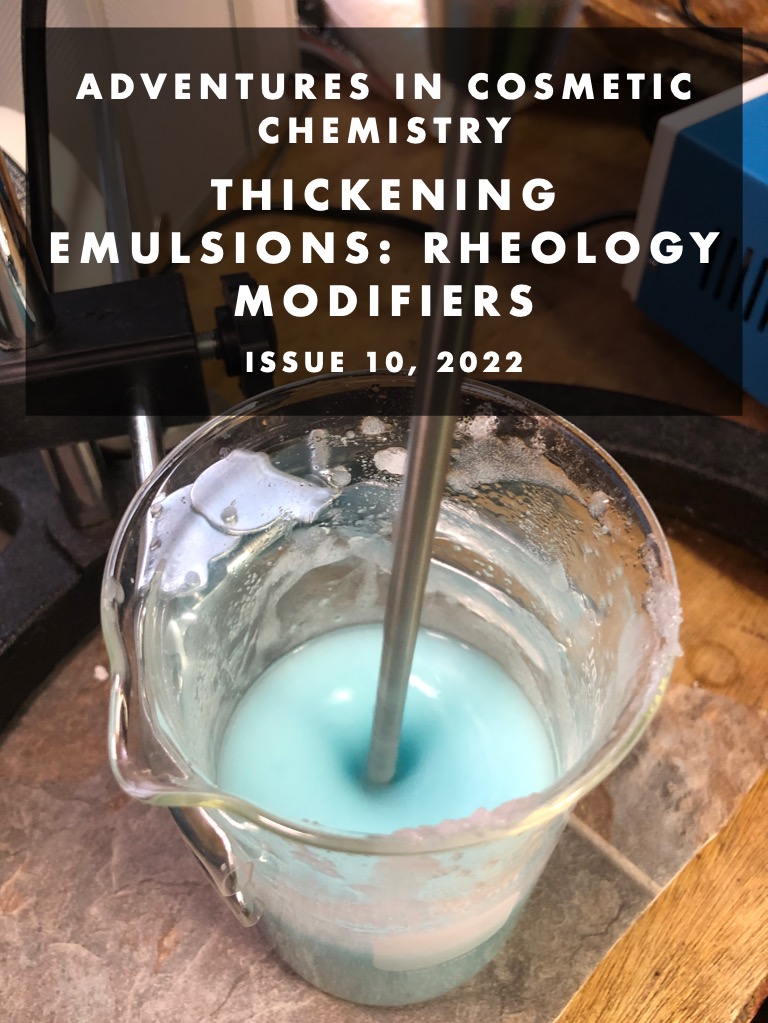 If you're a $10 subscriber or higher, you'll get the e-book for the month – which is generally issued on the 27th or later. I'm never sure what the topic will be until I start reviewing outlines, notes, formulas and everything else, but there are – as always – a few different ones on the go. Watch for the post towards the end of December 2022 for the e-book for the month. 
The e-book for November was Thickening emulsions: Rheology modifiers. In the shop, it's $20 Canadian, but it also came with your $10 US subscription. You can still pop on over to the store to snag a copy for yourself if you missed it last month.
If you were a $10 subscriber in November 2022, please click here to see the coupon page to get your own copy.
Thanks so much for joining us here for December, and ensafen yourself from Whamageddon when you go out in public or stream Christmas songs!
It's also supposed to be a brutal respiratory illness season with various flus, colds, as well as RSV and Covid spreading rapidly. I know it's hard to avoid getting everything floating in the air, but follow all the suggestions of your public health department by wearing a mask, washing your hands, avoid licking doorknobs or the keypads of ATMs, getting all your vaccinations up to date, and ventilating your indoor spaces well. Keep you and your community safe as we continue to navigate this unprecedented time.