Welcome to the world of tomorrow! There's something really science fiction-y about the year 2020…and something very optical, too! (Cue the "2020 vision" jokes!) Santa Raymond is starting the year by grumping about the house that he still doesn't have a personal spaceship a la Battlestar Galactica.
I start taking stock of the previous year on the 1st, so I'm not quite in "New Year's resolution" mode yet, but I'd love to hear what you have planned!
Thanks for joining me here for another year and another decade! I can't believe I'm going into my 11th year of blogging, and I'm still so excited about formulating, writing, experimenting, and learning more every day! I'm so glad you're continuing this journey with me.
I am looking forward to spending more time with people who love formulating as much as I do. Our first
cosmetic chemistry coffee klatch
last weekend was a roaring success, and we'll definitely be planning more for the future. I was thinking of holding one at least every other month on a Saturday or Sunday, and if you're interested in learning more or attending, please let me know in the comments!
I had such a blast after meeting with Ina, Andrea, Susan, and Janet! My cheeks hurt from smiling afterwards. I can't wait to do it again!
And we're going to In Cosmetics Global again, this time in Barcelona! I don't think I've recovered from the last one, my head is still so full of ideas!
I'm so excited about the formula directory for readers who subscribe at $3 or higher! This is a work in progress – I think we're into 2014 at the moment – and it'll continue to be updated over the next few weeks. Then we'll be looking at organizing it further into other categories. With the help of the always awesome Emrys, we're getting more and more organized on the blog and in the workshop. Her help has been invaluable!
I wanted to take a moment to clarify something for you as we go into this brand new year: As a $1 subscriber, you have access to all but three posts a month, those being the duplication suggestion thread, the Q&A, and the e-zine coupon. This means of the 3,940 posts on this blog, there are maybe 90 of these kind of administrative posts you can't read. You have access to every single ingredient write-up, formula, and theory post I've written for almost 11 years, as well as my intro to chemistry course. You aren't missing out on anything other than the three monthly administrative posts I detailed above.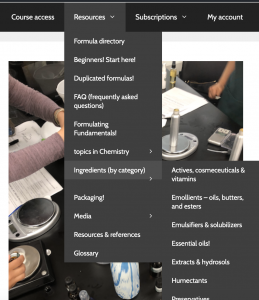 If you're looking for what was once the "links to lists" section on the right hand side of the old blog, look up – waaaay up! – to the menu, and look under the "resources" section to find those lists as well as many many more. These are all links to pages that contain loads of links to various things on the blog, like hair care, skin chemistry, pH & pH meters, and so on, where you can find ingredient write-ups and formulas.
For all members, don't forget about the member-to-member super happy wonderful sharing & caring post (January 2020 edition!), open to everyone!
As we do every month, if you're a $3 subscriber or higher, click here to see the duplication request post!
If you're a $5 subscriber or higher, click here to see the month's Q&A post! (I've continued from last month's post as there were some great questions I needed to look at again!)
If you're a $10 subscriber or higher, you'll get the e-zine for the month – which is issued on the 27th or later. Last month, you received a huge e-zine on Rheology Modifiers, hydrocolloids – along with a hydrocolloid comparison chart – which is the start of a series on this topic. I'm hoping January's e-zine will be a continuation of this series. (I say "hoping" as often shiny things can drag my attention away from the thing I planned to do. Stupid shiny things!)
But wait, there's more for $10 subscribers – we have coupons for these companies!
As a note, I forgot to get in touch with these companies before the holidays, so I don't have updates for any, except Lotioncrafter. I'll write to them tomorrow and update these as I gather the information…
Lotioncrafter – updated for January 2020
Windy Point Soap Making Supplies – updated for January 2020
Voyageur Soap & Candle – updated for January 2020
Formulator Sample Shop – updated for January 2020
Formulator Sample Shop EU (coupon may need updating for the new year?)
Make Your Own Buzz, Chemistry Connection, and Save on Citric (coupon may need updating for the new year)
How were your holidays? How are you celebrating the new year? Do have any resolutions to share? any ideas you're hoping to make real this year? Share your thoughts!