I always wait until the new year to talk about the previous one. As a mid-to-late December baby, it makes me sad when everyone starts reviewing the year at the start of the month, as if nothing important could possibly happen in the best month of the year. (Four years ago, Lemmy of Motorhead died on the 28th? All those "those we've lost" in memoriam summaries looked pretty cruel leaving him out!) I'm taking some time to review, take stock, and enjoy the year that was 2019.
This Instagram top nine of the year collage sums up 2019 pretty well for me. From left to right, starting at the top…
Duplicating a formula with my daughter, Emrys, using Olivem 1000.
One of my first selfies I took as I really liked my hair with my epic rinse-off and epic leave-in conditioners.
A collage of clear body wash, atom earrings, and pH testing at Windy Point Soap Making Supplies.
A random picture of unrefined shea butter I took at Voyageur Soap & Candle Supplies.
A lovely pink body butter made at a class I taught at Voyageur Soap & Candle Supplies.
A whipped shea butter.
The entrance for In Cosmetics Global in Paris from day one (March 31).
And Raymond in the lab at In Cosmetics Global.
Wow, this was a banner year for writing and formulating here on the blog! I met all kinds of awesome people and travelled to awesome places. I taught classes and learned so much, my brain feels close to exceeding its maximum storage capacity. Honestly, I couldn't have asked for a better year! Thank you for joining me on this journey and for supporting the blog and my work through your subscriptions!
Find me on Instagram as @swiftcraftymonkey!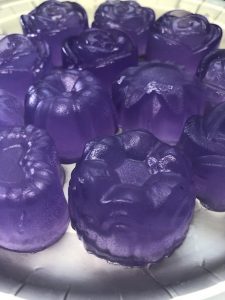 Last year, I shared with you that I realized I was verging into hoarder territory, and decided 2019 would be the year I use all these ingredients I've been saving!
I shared at least 61 new ingredients write-ups with you here on the blog – click here for the #alltheingredients category – and at least 29 in the e-zines.
I've been working with loads new ingredients over the last few years, and it's been quite fun getting out of my comfort zone to get away from my oft-copied signature – 2% panthenol, 2% hydrolyzed protein, 3% glycerin, 3% propanediol 1,3, 0.5% allantoin, 0.5% Germall Plus liquid – to try new humectants, proteins, emollients, emulsifiers and so much more! I hope you're enjoying this journey with me.
I've been trying to think of my favourite ingredients for the year, and that's been incredibly hard as it's like asking me to choose my favourite type of chocolate with the answer being "all of them". I've fallen in love with hydrocolloids this year, so much that I wrote an entire e-zine on the topic, and there will be so much more to come in 2020 about these ingredients. You can find the blooming jelly cleanser from IMCD if you click here, and the Moisture Renewal Body wash by clicking here.
I'll be sharing more of my favourite formulas of the year shortly, so stay tuned!
I managed to complete my inventory of ingredients and I have 1,000+, not including pigments, dyes, colours, fragrance oils, essential oils, or candle, melt & pour soap, or non-cosmetic supplies. Woo hoo! Now how to use them all…? Eeek!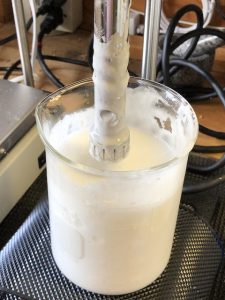 We managed to get some new equipment for the workshop, including three magnetic stirrers, one very fancy immersion blender, an overheard stirrer, and a homogenizer, which is the most amazing piece equipment.
Thank you for your subscriptions as they help us buy these things so we can offer equipment reviews and create products we might not have been able to make before.
You've already met the magnetic stirrers with or without hot plates as well as all my pH meters. Next up, my Dynamic Minipro mixer and homogenizer. I'll be incorporating all these mixing devices into my formulas in the instruction sections.
Check out the new equipment reviews page where I'll be collecting all the links to equipment, like mixers, double boilers, thermometers, and mores, as well as information on glassware, disposable items (like pipettes boats), and more!
Related posts:
Find the pH meter series in this section of the blog, pH & information about meters
Get a bloody thermometer already! Equipment review
Equipment review: High shear mixers – Chefman 300W Soft-Touch Rubberized Ice Crushing Immersion Blender
Equipment review: Magnetic stirrers and stir bars, plus thoughts on my Intllab version
Equipment review: Magnetic stirrer with hot plate
BLOG STATS!
I shared 405 posts this year, which works out to an average of 1.11 posts per day. I try to make the posts at least 1,000 words – and this year I had quite a number that topped out over 3,000 – which works out to around 405,000 words, which is the equivalent of 5.26 Harry Potter and the Sorcerer's Stone, or 1.35 Game of Thrones.
E-ZINES!
I put out 11 e-zines, including…
My favourite class formulations – Men's products (January 2019)
Learning to formulate: Creating less greasy lotions (February 2019)
It's not easy being green, part one (March 2019)
It's not easy being green, part 2: Silicone substitutes (April 2019)
Quick break & fresh kick (June 2019)
10 minute lotions (July 2019)
10 minute hair care products (August 2019)
My favourite class formulations – A Windy Point sampler (September 2019)
Scents of the Season (October 2019)
Shiny Things, volume 3: Ingredients that distracted me (November 2019)
Rheology Modifiers: Hydrocolloids (December 2019)
In these e-zines I shared 209 formulas and wrote 160,956 words – the equivalent of 5.37 Animal Farm, 2.09 Harry Potter and the Sorcerer's Stone, or 0.54 Game of Thrones (first book)
WRITING STATS!
My total output for the year was an estimated 565,956 words – equal to 7.35 Harry Potter and the Sorcerer's Stone or 1.9 Game of Thrones (which is more than George RR Martin seems to be managing these days! Argh!)
This works out to 1,731.6 words published every day.
Note: This doesn't include drafts – I have 300+ posts that need a little bit of this or that before I can share – or things you won't see as I wasn't happy with them or some other reason, like the moment has passed. This also doesn't include class handouts, which can run as high as 20 pages, or chart information.
And I created a course – Introduction to chemistry course!

PLACES TO GO, PEOPLE TO SEE
After visiting family in Liverpool, England, Raymond and I went to London and met Jane Barber of Making Skincare, Nanette Hall Vaughn of NV&O, Anja Steiner of Formulate Cosmetics, and Mark and Anne of Make Your Own Buzz, Chemistry Connection, and Save On Citric, which was great fun!
We went to Alchemy Labs to learn more about their ingredients and play in the lab, then met with Alfa Chemicals to learn more about theirs. It was such a blast to meet people in real life who love cosmetic chemistry as much as I do! I talked surfactants with Mark and Jane; talked cosmeceuticals with Nanette; talked esters and natural emulsifiers with Anja.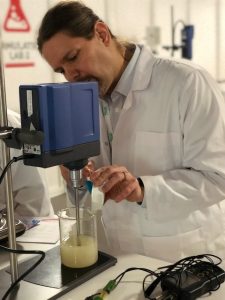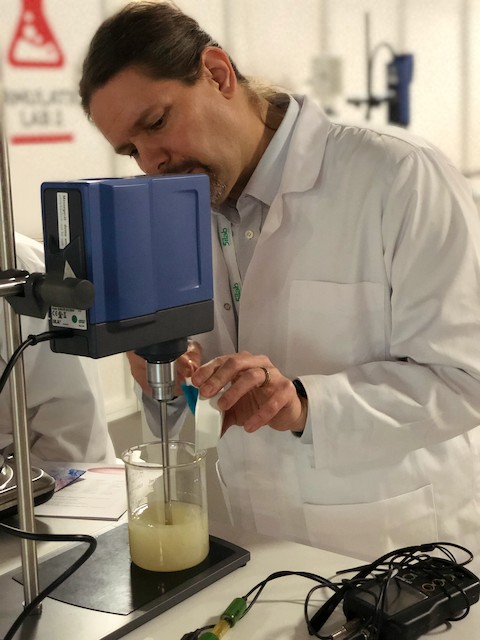 We went to In Cosmetics in Paris, which was…honestly, I don't have the words for it. It was like Disneyland for formulators. Three full days of things to read, products to try, people to meet, labs to take, and so so so much more! I think I'm still processing everything I saw and learned there.
I think what had the most impact on me were all the different textures one can create with a small amount of a rheology modifier. I was fascinated by what Nanette said looked like a lotion fail, that almost broken look. I'm still on the hunt for some cellulose to try those formulas.
Related posts:
In Cosmetics Global: Day One (overview)
In Cosmetics Global: Stepan, makers of my favourite surfactants!
In Cosmetics Global: Urban Renewal Cleansing Balm by Ashland
Working with Lysofix® and Lecigel®: The lab at In Cosmetics Global, write ups, and formulas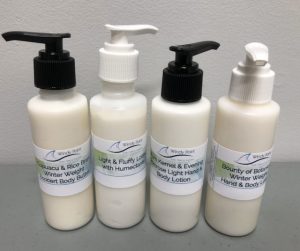 And I travelled to Calgary to teach at Windy Point Soap Making Supplies in September, which was such a blast. We played with all kinds of awesome new ingredients, held a pH testing class, and I taught an advanced lotion making class using rheology modifiers, like water-soluble silicone wax and hydroxyethylcellulose. It's always such a great joy to spend time with Michele, Keith, and Jenna, and all the awesome and curious people who attend my classes, like Annie and Kathy and Cheryl (to name a few)!
My favourite part about travelling to conferences and classes are the people I met. We get to have great conversations about this thing we all love so much, sharing our joy and enthusiasm! I love those moments of connection so much!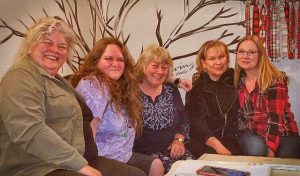 We had our first cosmetic chemistry coffee klatch on December 29th in Chilliwack, where I live. Ina, Andrea, Susan, and Janet came and we had a blast!
If you're interested in joining us for future events – we're thinking the first or second week in February 2020 – keep watching this space as we'll have some kind of sign up newsletter to keep track of everyone!
I'm sure there's so much more to say and so much more that happened that I'm missing, but that can be a post for another day. I'm up to 1,500 words already and really need a cup of tea, so I'll stop here and listen to what you have to say!
How was your 2019? What have you learned? What excited you the most? What fun things did you add to your workshop or lab? Share your thoughts!